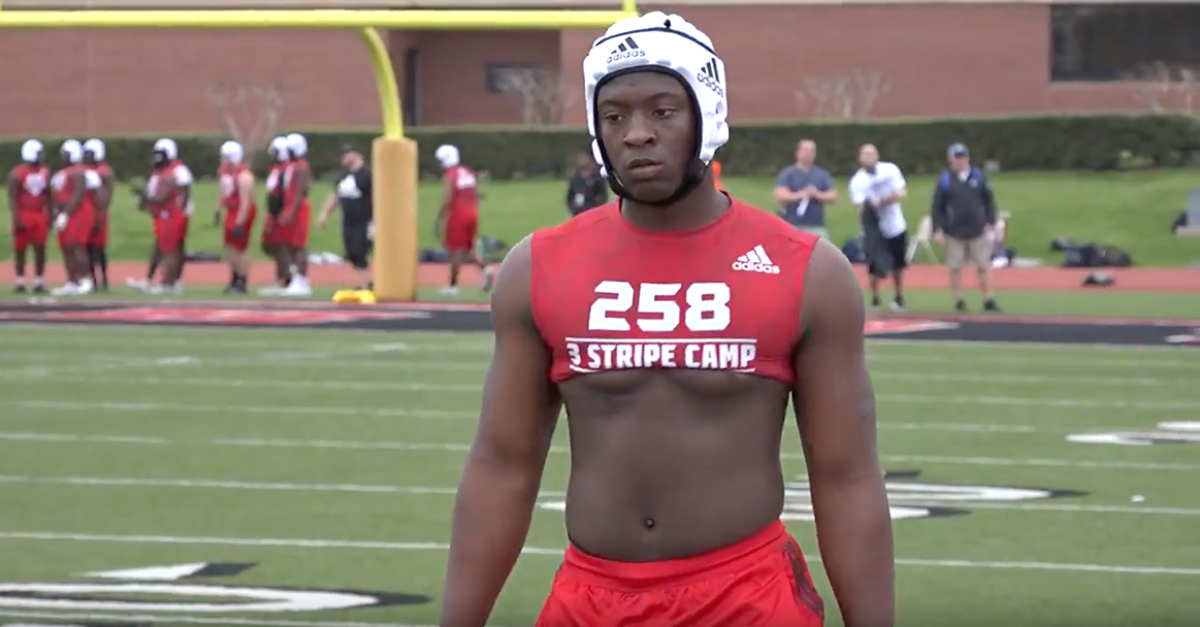 Screenshot from YouTube
Duncanville, Texas may be home to the next great linebacker in NCAA college football. Duncanville High School linebacker Kendrick Blackshire is the one of top inside linebacker recruits in America, and his stock continues to rise.
A member of the 2021 recruiting class, Blackshire is a player that every top school is fighting for because the 245-pound beast looks ready to play as soon as he steps on campus.
Already a four-star recruit, Blackshire is a player who has his choice of schools across the country and could easily set himself up as a high NFL draft pick in the future.
Listed at 6-foot-2 and 245 pounds, he's the size of a linebacker who has been in a college program for a few seasons, but he also flashes incredible athleticism, which is equally as important for a player at his position in today's game.
All of the major recruiting services see him as a top recruit in his class. His highest ranking near the end of the 2019 season is on ESPN as fourth-best at his position. The 247Sports Composite ranks him 152nd overall, as well as the No. 7 middle linebacker. Rivals puts him as the 21st overall in Texas and tenth-ranked inside linebacker.
Kendrick Blackshire Recruiting
RELATED: Nation's No. 1 Cornerback Reveals His Top 8 Schools
It should come as no surprise that Blackshire currently has nearly 30 scholarship offers, all from the top teams in the country and many which always push for a spot in the College Football Playoff. He already holds offers from teams in his home state, including Texas and Texas A&M.
He released his top 13 schools in a tweet in mid-October. Those teams were Alabama, LSU, Oklahoma, Florida, Auburn, Oklahoma State, Michigan, Michigan State, Illinois, Miami, and Florida State.
On April 22, 2020, Blackshire cut his list to Alabama, LSU, Texas A&M, Baylor, Oklahoma, and Illinois.
Even though the MaxPreps All-American MLB is from the Lone Star State just outside of Dallas, it doesn't look like he is favoring the Longhorns or Aggies. The 247Sports Crystal Ball and Rivals Futurecast both list Alabama as the favorite.
Blackshire logged 180 tackles in two seasons at Horn High School before transferring to Duncanville. He tore his ACL during the offseason, however, and was expected to miss the entire 2019 season, according to The Dallas Morning News.
ILB Kendrick Blackshire Highlights
Blackshire not only shows why he is a big-time recruit on the field, but he's also done that in workouts and camps out of pads. If he is able to show his strength at 250 pounds, but also that he can be trusted to move from sideline to sideline quickly, this is a player who could become a five-star recruit and be hunted by NFL scouts quickly.
---
UPDATE (July 7, 2020): On Instagram Live, Blackshire announced that he'd cut his final list to three schools; The Alabama Crimson Tide, LSU Tigers and Texas A&M Aggies are the SEC powerhouses he's considering.
Blackshire tweeted on July 1, "I will be committing soon." Keep an eye out for another domino to fall ahead of the 2020 high school football season.
---
UPDATE (July 15, 2020): Blackshire didn't make us wait long before announcing.
On Tuesday, Blackshire verbally committed to Nick Saban's Alabama Crimson Tide, bringing yet another elite linebacker into a program that's produced NFL talent like Dont'a Hightower, C.J. Mosley, Reggie Ragland and Mack Wilson.
This post was originally published on November 26, 2019. It was updated to track Blackshire's recruitment.