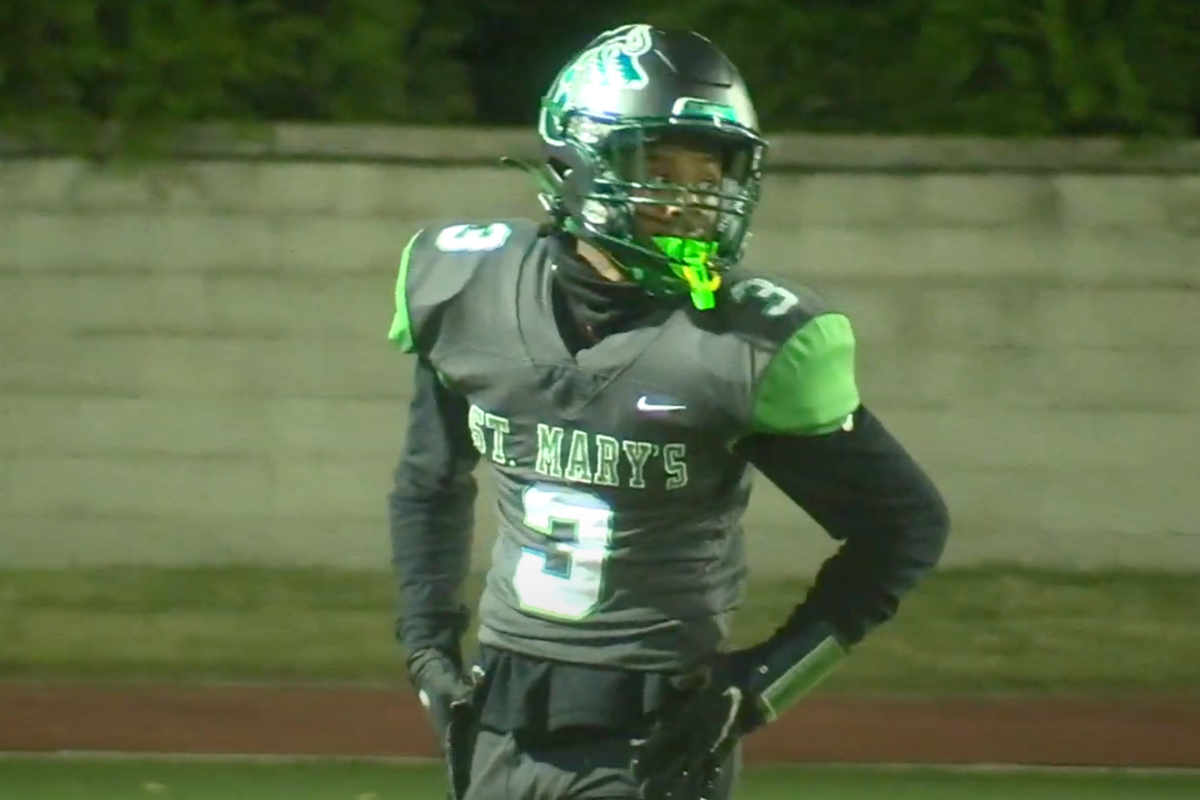 Screenshot from YouTube
Kevin Coleman is a five-star prospect who will make the leap to college football with relative ease. Division I teams across the country have been interested in the 5-foot-11, 170-pound wideout for years, and his decision will jolt a team's recruiting class when he finally makes it.
Coleman attends St. Mary's High School in St. Louis, Missouri, and the wide receiver has already built up an impressive resume over just three seasons.
In his freshman year, he racked up 1,045 receiving yards and caught ten touchdowns. Those numbers ballooned to 1,512 and 24, respectively, in 2019, and in an abridged, COVID-affected 2020 campaign, he had eight touchdowns in just four games. He also took some reps at running back, but he was less involved in the rushing game.
Head coach Ken Turner has made Coleman a staple of his offense, and for good reason.
Kevin Coleman Recruiting
RELATED: Meet the 285-Pound QB Taking the Internet By Storm
When you are one of the best wide receivers in your recruiting class, your offer list tends to be large.
So far, Coleman has spoken to Alabama, Arizona State, Arkansas, Auburn, Clemson, Florida State, Georgia, Illinois, Iowa, Iowa State, Kansas, Kentucky, Louisville, LSU, Miami, Michigan, Michigan State, Minnesota, Missouri, Nebraska, Notre Dame, Oregon, Penn State, Purdue, South Carolina, Stanford, Tennessee, the Texas Longhorns, UNLV, USC, and Vanderbilt.
Whoever recruits him will see their 2022 recruiting class shoot up the power ranking because this student-athlete has a real chance to perform at an elite level in the NCAA.
WR Kevin Coleman Highlights
Coleman is not the biggest or tallest player at his position, but he makes up for it with his strength and determination. He is faster than most players in high school, which allows him to generate separation and soar past a defense when he gets open.
It would not be shocking to see his name on an All-American list a few years down the line. Scouts believe that an early selection in the NFL Draft is all but inevitable, so it is obvious that he is extremely talented.
There is endless speculation about where he will land, but he has widdled down his list to 14 schools.
No matter where he goes, there is a high degree of confidence that his name will be announced by Roger Goodell on ESPN once his college football career is complete.