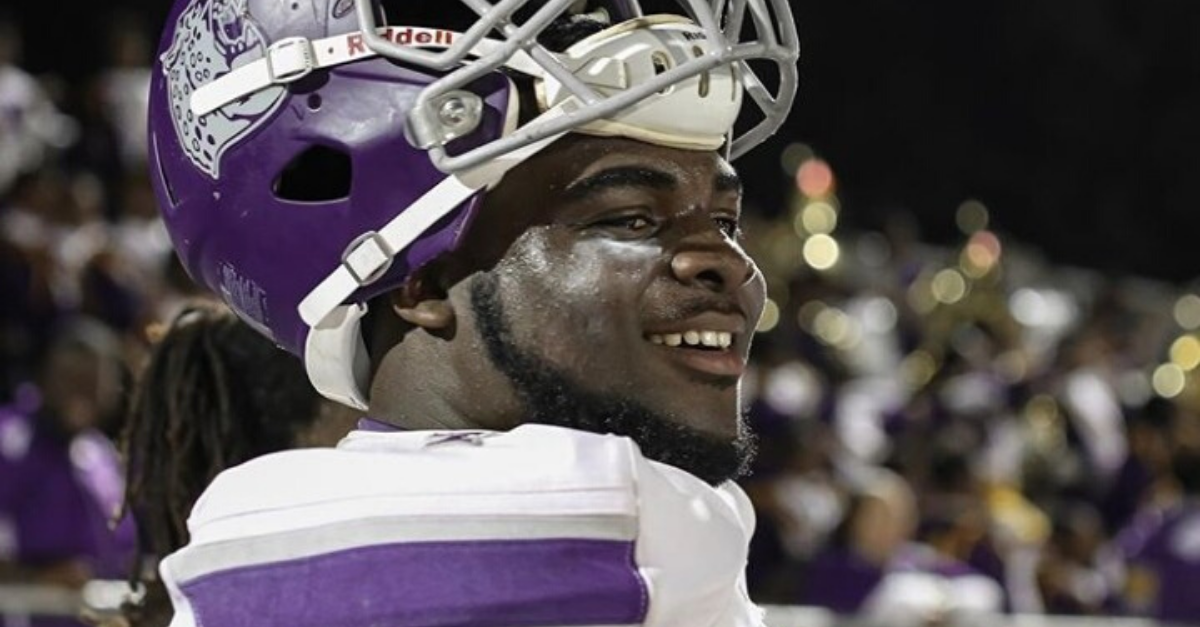 Twitter: The_Fridge7
When it rains, it pours, and the good news keeps flooding in for the Auburn Tigers. Not only did they win the Iron Bowl over the Alabama Crimson Tide, but the SEC program also just landed one of the top high school recruits in the country for the 2021 class.
Although he's only a junior, Blount High School defensive tackle Lee Hunter came off the board when he officially committed to head coach Gus Malzahn and the Tigers on Twitter.
"My heart keeps telling me to go to this school and that's where I'm going to fit in good," Hunter told 247Sports. "It's Auburn. My heart just keeps telling me to go to Auburn. If I don't go there I feel like I'll make a bad decision."
5-Star DT Lee Hunter Commits to Auburn
Primarily recruited by Auburn defensive coordinator Kevin Steele, the five-star prospect from Eight Mile is ranked No. 4 nationally and third overall in the state of Alabama. He chose the Tigers fielding other big-time offers from Alabama, Arkansas, Florida, Florida State, Georgia, Iowa, LSU, Mississippi State, Missouri, Ole Miss, Oregon, Tennessee and Texas A&M, among many others.
At 6-foot-5 and a shade under 300 pounds, Lee Hunter is already bigger than former Auburn All-American Derrick Brown, who will likely be a top pick in the 2020 NFL Draft.
"I love the defense Coach Kevin Steele runs. I think I would fit perfectly in it. I feel like I can relate myself to number five, Derrick Brown. I feel like I can do the same things on the same side of the ball and hopefully do it even better."

— 5-Star Defensive Tackle Lee Hunter, via 247Sports
If that doesn't make Auburn fans scream "War Eagle" at the top of their lungs, it's hard telling what will. There's no doubt this kid is a stud and will ready to take over college football in a couple of years.
This article was originally published December 3, 2019.