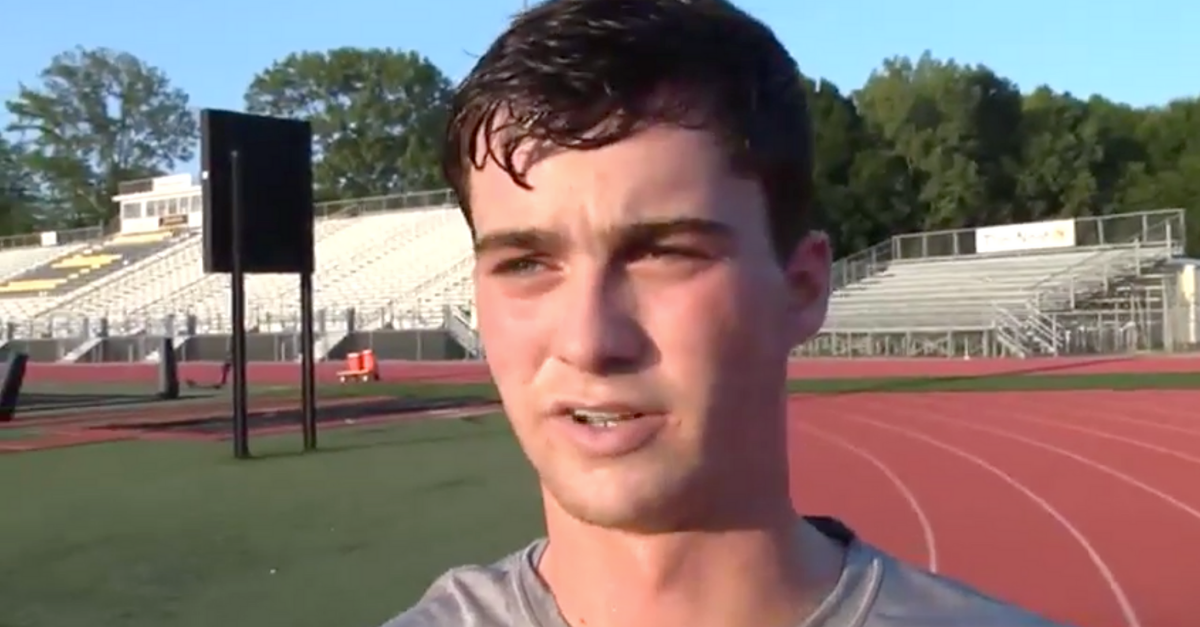 Screenshot from YouTube: WCBI
Florida State head coach Mike Norvell wasted no time making a splash in Tallahassee. The Seminoles needed a spark heading into offseason workouts, but when Norvell arrived, the 38-year-old brought matches and gasoline and set the FSU football program ablaze.
Since taking over in December, the former Memphis Tigers leader inked a top-20 recruiting class that included Demorie Tate, who is the No. 4 cornerback prospect in the country. The 'Noles need to improve in several areas before they're standing toe-to-toe with the ACC's dictators over in Clemson, South Carolina, but the program is moving quickly to get back on track.
While visiting Tallahassee for FSU's Junior Day, Starkville quarterback Luke Altmyer was hand delivered a scholarship offer from Norvell himself. Rivals ranks Altmyer as a four-star prospect, while the 247Sports Composite ranks the 6-foot-2 signal caller from Mississippi as a three-star prospect and the No. 17 pro style quarterback heading into his senior season.
"[Norvell] told me that I was the one guy he wanted. He wanted to wait to tell me in-person," Altmyer said after his visit, via 247Sports. "We have been on the phone a lot, ever since he has gotten this job. I'm the first one he has offered. So I am super excited about that. I am honored, so honored."
Just nine days later, Altmyer announced his commitment to Florida State University via his Twitter account.
4-Star QB Luke Altmyer Commits to Florida State
RELATED: Randy Moss' Youngest Son Announces College Decision
This wasn't the first encounter between Norvell and Altmyer. While Norvell was at Memphis, he and new FSU offensive coordinator Kenny Dillingham were recruiting Altmyer to their AAC program. (Norvell even visited Starkville High School via helicopter back in September.) After Dillingham's lateral move from Auburn to Florida State this offseason, followed by Norvell's arrival, the time was perfect for Altmyer to commit.
Altmyer led the Yellow Jackets to a 12-3 record and Mississippi's Class 6A semifinals under head coach Chris Jones. The highly-efficient QB finished his junior season with 3,093 passing yards and 37 touchdown passes against only five interceptions, according to statistics kept by MaxPreps.
Altmyer holds at least a dozen offers from D-1 programs, including Georgia Tech, Louisville, LSU, Mississippi State, Missouri, Ole Miss, Oregon, and Wake Forest. He hasn't signed a National Letter of Intent yet, but he certainly seems impressed and excited to remain committed to FSU heading into his senior season.
This article was originally published February 3, 2020.