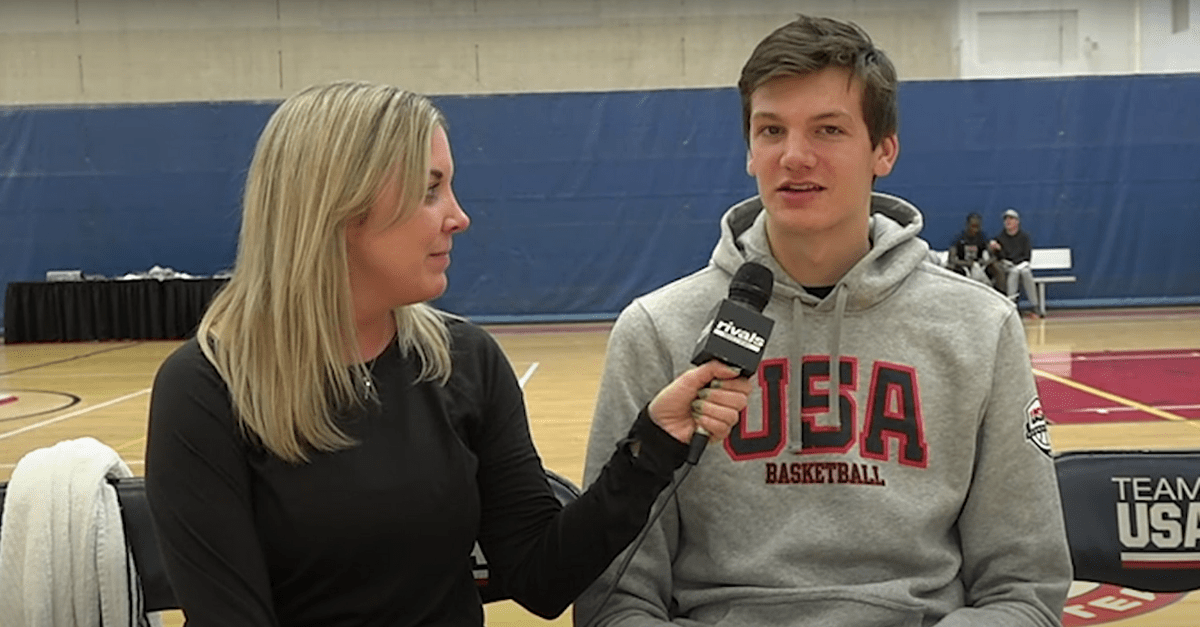 YouTube: Rivals Video
A one-foot fadeaway jumper is a lethal move for a skyscraper shooter. Ask anyone who's defended Dirk Nowitzki or Kevin Durant over the years.
For five-star center Nathan Bittle, it's his go-to move. It's one of the 6-foot-10, 176-pound center's versatile tools that separate him from a traditional big man and a big reason why the Crater High School product is one of the top recruits in the country.
Nate Bittle Highlights
The center's game revolves around feel. Bittle reads the floor exceptionally well — He finds openings for back cuts, posts up against smaller guys, roves around the perimeter. Throw the ball in the vicinity of Bittle, and he'll catch it. He protects the ball by keeping it near his chin. On a cut, he moves with his hands high.
Bittle is a terror from three-point land. He can come off screens as a ball-handler or on the wing. He shoots it in rhythm. Due to his large stature, his shot is essentially unblockable.
On the glass, Bittle cleans it up. Thanks to his feel for the game, he puts himself in the right place to sniff out rebounds. He's a solid rim protector. He has the long arms and frame but will need to add muscle.
Nate Bittle Basketball Recruiting
RELATED: Caleb Houstan, Nation's No. 2 SF, Reclassifies to 2021
The Central Point, Oregon native is the ninth-ranked recruit in 247Sports' 2021 recruiting class. He holds NCAA offers from Oregon, Gonzaga, UCLA, Arizona, Cal, Georgia Tech, Oregon State, Portland, Tulane, USC, Vanderbilt, and Virginia. He's taken official visits to Gonzaga, UCLA, and Arizona. 247Sports' Crystal Ball predicts Bittle will play college basketball in-state for Dana Altman and the Oregon Ducks.
The skilled scorer shares similarities with fellow 2021 five-star Chet Holmgren. Both are slender frontcourt players who can move and shoot like guards. Holmgren narrowed his schools down to seven in June. Among them is Gonzaga, where his high school teammate Jalen Suggs will be a freshman for the 2020-21 season.
Bittle was one of three finalists for the 2020 Oregon Sports Award for Prep Male Basketball Player of the Year. He won the award over four-star Ben Gregg and Oklahoma football recruit Nate Rawlins-Kibonge. Bittle and Gregg faced off in the Les Schwab Invitational in December 2019. Crater won 71-54 behind 41 points from Bittle. In the summer, Bittle laces them up for West Coast Elite.
The skills and basketball IQ are there. The addition of strength nearly ensures an NBA future.
---
UPDATE (July 31, 2020): On Twitter, Bittle announced that he will focus his recruitment on four schools. They are the UCLA Bruins, Gonzaga Bulldogs, Oregon Ducks and Arizona Wildcats.
This article was originally published July 23, 2020. It's been updated to track Nate Bittle's recruitment.