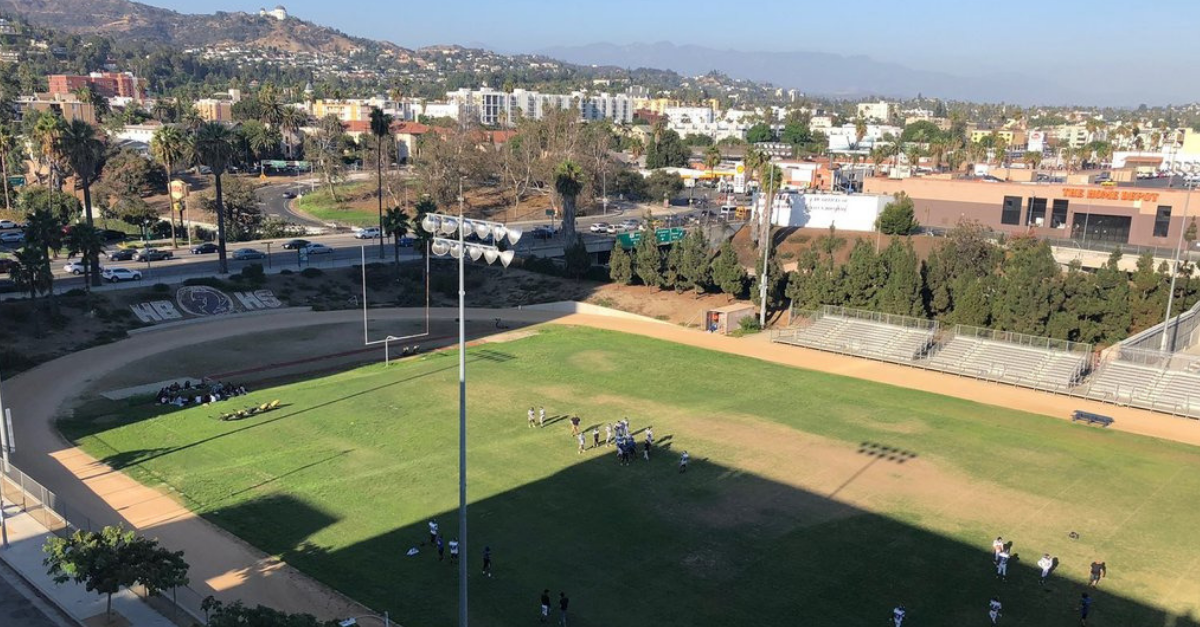 KTLA
More often than not, the glory days of high school football are innocent, where hype entrances and sideline syrup shots rule in popularity, but the game is still intense and competitive. There are unfortunately times where things get too serious for comfort.
One prep team in Georgia staged a walkout to protest dangerous practices, and now another team in Hollywood, California has fired its coach after an investigation focused on two students allegedly spiking the water at a junior varsity football practice with a male-enhancement drug.
According to a report The Los Angeles Times obtained through the Public Records Act, Helen Bernstein High School head coach Luis Barajas was dismissed because he failed to notify school officials or parents that players had possibly ingested contaminated water until two weeks later.
The alleged incident of contaminated water happened on July 12. Barajas, who also was cited for failing to secure a permit for practice in the report, was fired on August 7.
The report also found the school's athletic department failed to properly vet an assistant coach and allowed students to practice before the player's academic eligibility had been verified.
"No parent complaints were received at Bernstein, school police [were] not involved, no testing of the alleged contaminated water took place and there [were] no student illness reports" — Los Angeles Unified School District general counsel's office statement
According to the Los Angeles Times, school district spokeswoman Barbara A. Jones said parents were not notified because the district "did not find evidence that any students actually drank the contaminated water."
This doesn't appear to have been an easy thing to handle at all. The status of the students allegedly spiking the water is unknown, but Barajas has been relieved of his coaching duties.
The Bernstein High School Dragons are 1-3 heading into Friday's football game against Lincoln High School.