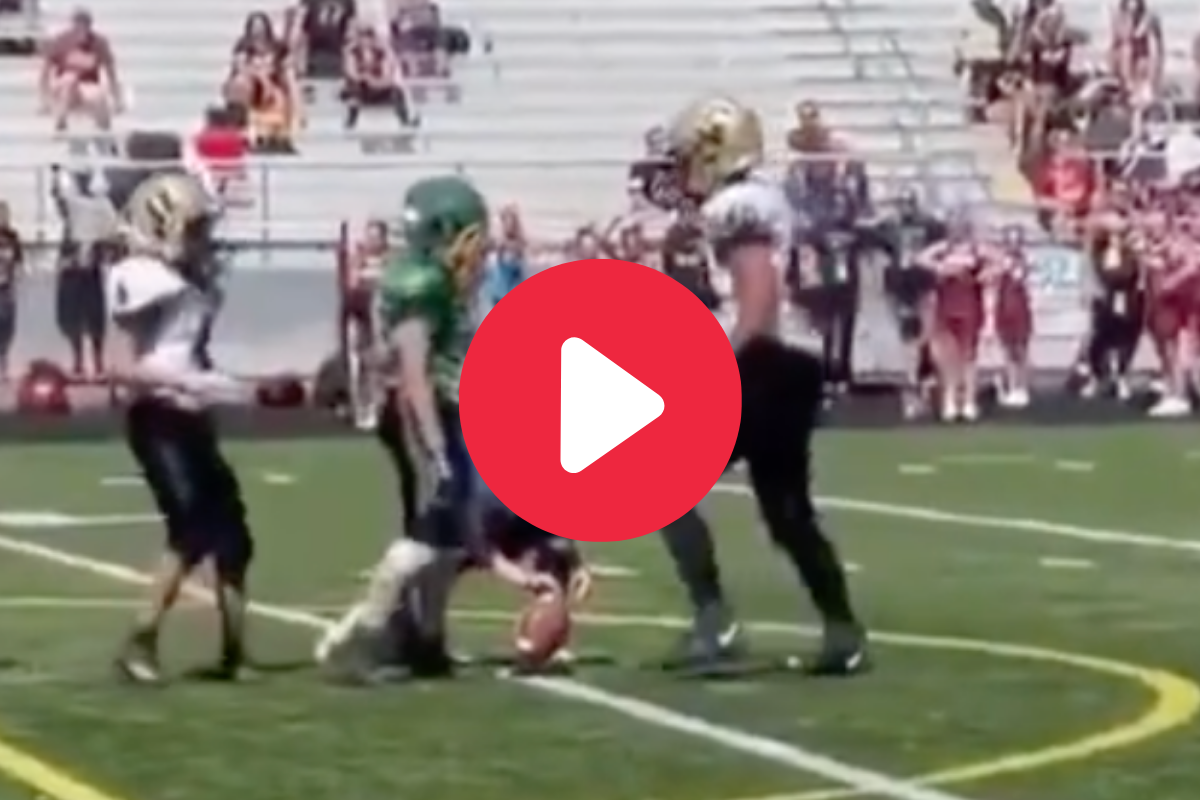 Screenshot from Twitter
Have you ever crossed an unbreachable barrier? Like the cookies on the top shelf of the fridge that your mom forbid you to eat until after dinner? The thought of ever getting there, let alone the chance to actually eat the cookie, seemed so unlikely that if you somehow finessed your way within reach of that chocolatey deliciousness that you wouldn't know what to do next.
The same thing happened in a pee wee football game. The sweet ecstasy of a chocolate chip cookie was a chance at a blocked field goal. The result was something straight out of a western.
Hilarious Pee Wee Football Field-Goal Standoff
RELATED: Pee Wee Football Players Break Into Dance, Become a Viral Hit
We're lined up for an extra point field goal attempt. The team in white is set to kick it through the uprights. The team in green is set to get ready for their next offensive possession.
The white team snaps the ball. The holder catches it and plants it on the ground. The young kicker, not to be confused with an offensive lineman, is interrupted during his approach.
You see, one offensive lineman on the white team forgot his assignment. A player from the green team sneaks around the end and has a clear lane to block the ball. He's coming in at full speed, he's gonna do it! He stops. I can only assume he developed a sudden allergy to the ball because all he had to do was take the ball and run the other way.
The biggest pee wee kicker of all time isn't amused. He pushes the defender out of the way to make a clear kicking path. Then, he boots it into the circle of players.
It's not something you see everyday. Apparently, some youth leagues forbid rushing a field goal. It's unclear what the specific rules for this league are, but the Instagram account "igreferees" cleared the air on the traditional rules.
"There is actually nothing illegal about this play. The kicker is allowed to push a defender. The defender, however, could have grabbed the ball before. The extra point is NO GOOD ????? and is not returnable. #IGRefs"
I had no idea this was the rule. I fully expect kickers to push away anyone who interferes with their kick now. It's well within their right.
The video went viral for its awkward hilarity. This kicker will stop at nothing to see the ball go through the goalposts.
Related Videos