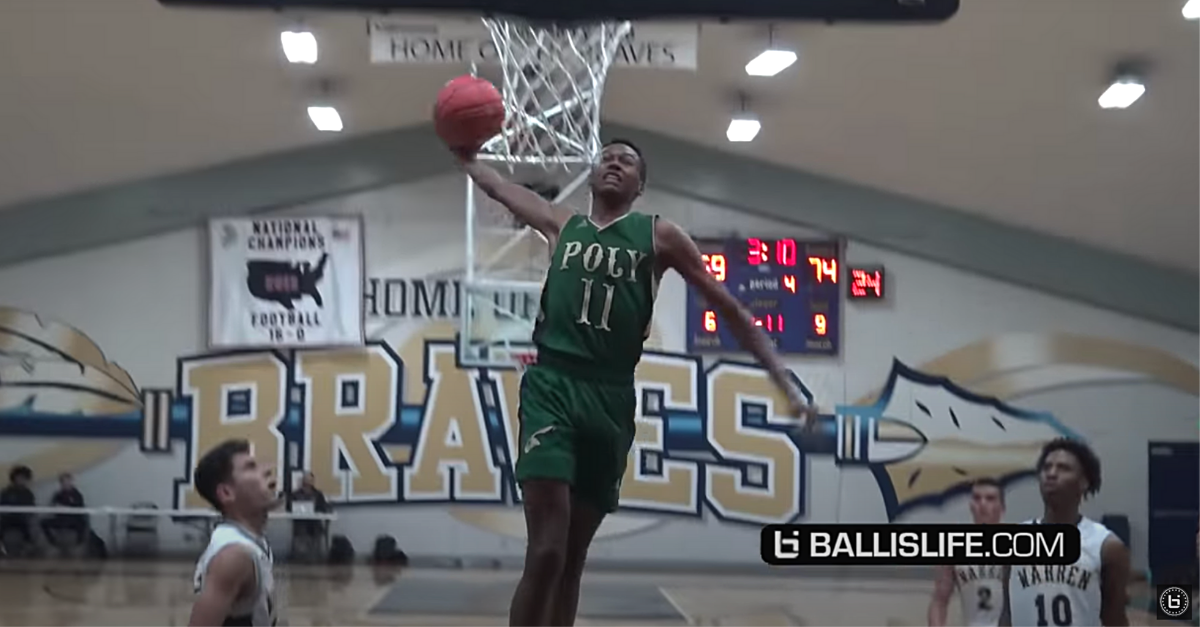 YouTube: Ballislife 2.0
There's length, then there's Peyton Watson. The five-star small forward from Long Beach Poly High School has the wingspan to give Kevin Durant a run for his money. The Brooklyn Nets star saw for himself this past January. Combined, they could probably lock arms and extend the length of the court.
Length is the focal point of Watson's game. It gives him unmatched tools on the court and has college coaches eager for his services.
Peyton Watson Highlights
Elevated by athleticism and a 6-foot-7 frame, Watson zooms down the court for dunks in transition. He rises, cocks the ball, and booms easy dunks. The full-extension loads extra snap.
Watson is the most effective driving downhill. He brings out a long euro-step that eats space and can finish with either hand. He's slender, weighing only 180 pounds, but he's able to slither past defenders. There's plenty of room to build strength. The five-star's jumper has progressed. It can become a vital part of his game with more improvement.
The forward shines defensively. His versatility permits him to guard any position. Watson's feel is outstanding. He sniffs out the ball and loves to sky for blocks.
Peyton Watson Basketball Recruiting
Watson is the No. 16 player in the 2021 class and top high school player in California, according to 247Sports' Composite Rankings. He holds scholarship offers from USC, Texas Tech, Grand Canyon, Arizona State, Arkansas, Montana, Santa Clara, and Pepperdine. His top options are Arizona, Washington, Michigan, Oregon, San Diego State, Gonzaga, Kentucky, and UCLA, although neither Gonzaga nor Kentucky have offered yet.
He took official visits to Arizona and Washington in September 2019. Watson hasn't indicated a decision yet, but UK is taking a particular interest in him and fourth-ranked recruit Paolo Banchero. He was hoping to draw more notice on the Nike EYBL circuit before it was canceled due to coronavirus.
Long and athletic wings are in-demand in the recent NBA Drafts. Peyton Watson can supply.
---
UPDATE (July 29, 2020): Watson announced via social media that he'd be making a verbal commitment to the UCLA Bruins, where reigning Pac-12 Coach of the Year Mick Cronin is building something special.
Watson joins Bishop Gorman (Las Vegas, NV) guard Will McClendon in UCLA's top-10 class for 2021.
Peyton Watson Commits to UCLA
This article was originally published July 16, 2020. It's been updated to track Peyton Watson's recruitment.