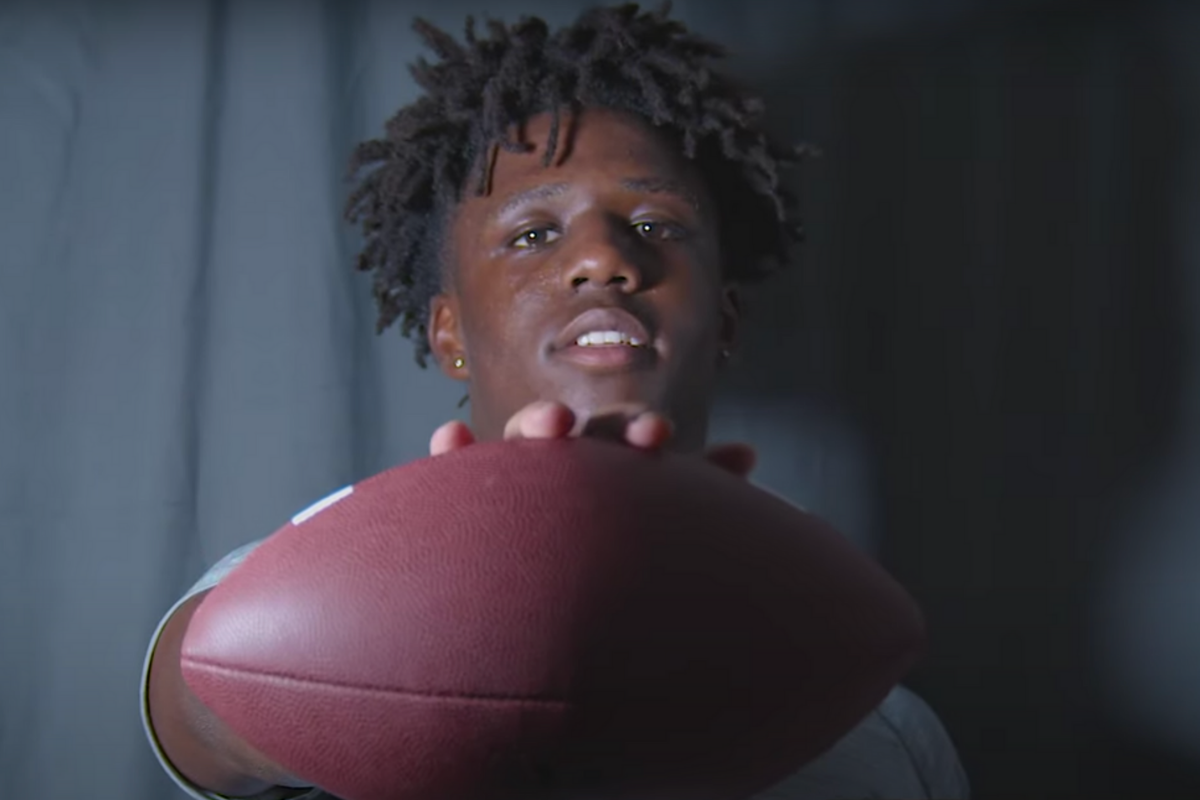 Screenshot from YouTube
College football players are not inhuman. They have families and friends, and sometimes it is not easy to leave them. Shadrach Banks is a four-star talent who chose to play for Jimbo Fisher and the Texas A&M Aggies, close to his hometown of Houston.
Banks currently plays for North Shore High School and is one of the best wideouts in the state. He has racked up plenty of scoring opportunities during his tenure on the Mustangs. His team won the Texas 6A D-1 State Championship in both 2018 and 2019, thanks to his work on offense.
As a sophomore, he recorded over 1,300 receiving yards and 17 touchdowns, but his junior year was slowed by injuries.
A broken foot was not enough to curb him, though. In just three games, he still recorded 257 yards and a pair of TDs. He was named to the All-American Bowl for his performance as a senior.
Of course, It helps to have four-star Auburn commit Dematrius Davis as your team's QB.
WR Shadrach Banks Commits to Texas A&M
Wide receiver Shadrach Banks shot down scholarship offers from Alabama, Arizona, Arkansas, Auburn, Baylor, Florida State, Georgia, Georgia Tech, Houston, Illinois, Kansas, LSU, Miami, Michigan, Mississippi State, Nebraska, Ohio State, Oklahoma, Oklahoma State, Ole Miss, Oregon, Penn State, Tennessee, Tulsa, USC, and Virginia Tech.
The Aggies' pitch was simply too appealing.
Shadrach Banks Highlights
RELATED: Meet the 285-Pound QB Taking the Internet By Storm
Banks may play wide receiver, but he is as fast as any running back and is built like one, too. At 6-foot and 210 pounds, he is not the most imposing force, but he can make big plays if he gets by the defense.
Four-star players are imperfect, and perhaps he can work on his route-running, though it is not a glaring concern for the Aggies.
Unlike other recruits, Banks' foray into college football did not get delayed by the COVID-19 pandemic. He has been committed to the Aggies since last August and has shown no signs of reneging that offer.
Texas A&M will be getting a great football player in Shadrach Banks, and their job is to turn him into an NFL-worthy talent.