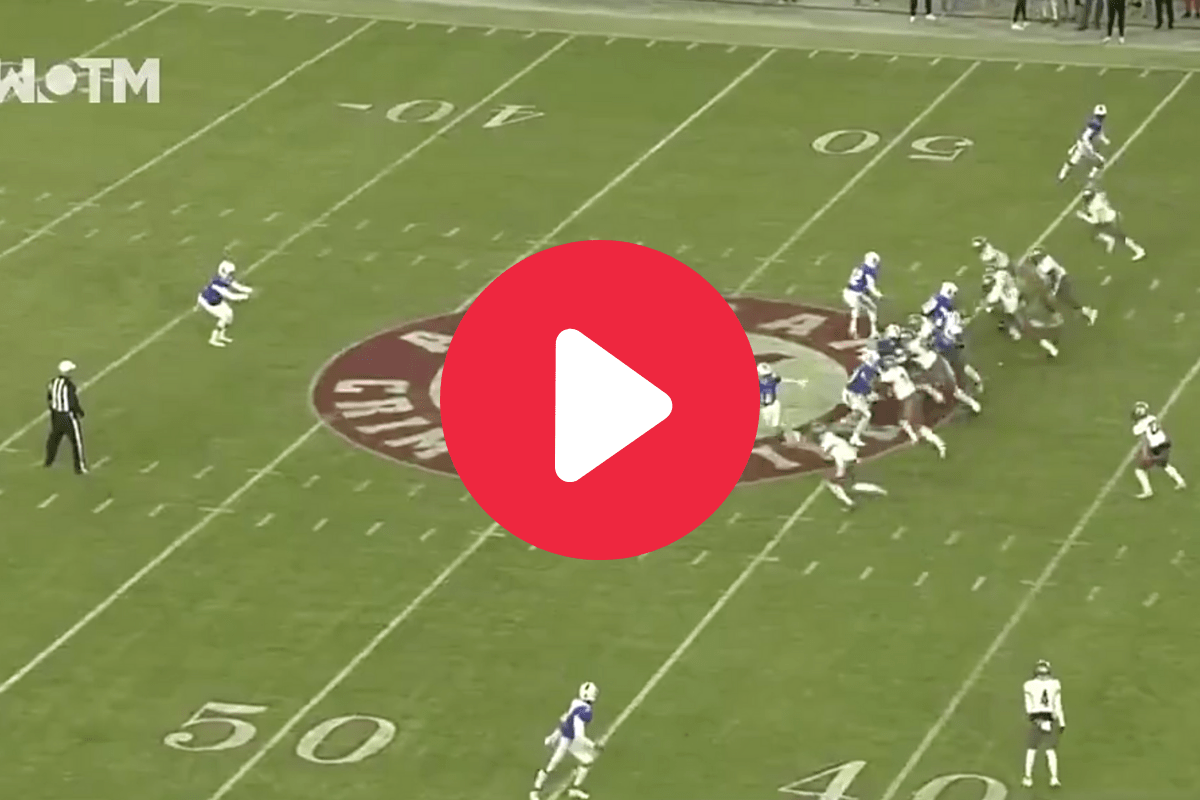 Screenshot from Twitter: MaxPreps
Bryant-Denny Stadium has hosted some crazy games over the years being the home of the Alabama Crimson Tide. Terrence Cody?s good ole ?Rocky Block? against Tennessee in 2009 made the stadium erupt. Who can forget the ?Game of the Century? against LSU in 2011?
If there?s one thing consistent in the Tuscaloosa stadium, it?s a team with the name Auburn losing games inside Bryant-Denny. The Auburn Tigers have fell victim too many times to count in the Iron Bowl.
However, a different Auburn choked away a title inside the SEC stadium.
Alabama High School State Championship
RELATED: High School Player Swings Helmet At Opponent, Then Mom Defends Him
Auburn High School held a 28-19 lead over Thompson High School with less than 30 seconds in the fourth quarter of the Class 7A state championship game.
Auburn players on the sidelines were dancing and having fun on Wednesday night in Bryant-Denny Stadium. Reporters tweeted out that the school was going to win its first-ever state title. Boy, were they wrong.
With 27 seconds on the clock, the Thompson Warriors blocked and returned Auburn?s punt attempt for a touchdown. That brought Thompson within two points of what would shape up to be a classic high school football thriller.
Thompson then executed a flawless onside kick, recovering it on Auburn?s side of midfield. Referees then called two defensive pass interferences on subsequent plays, which put Thompson in position to hit the game-winning field goal.
Thompson kicker Trevor Hardy drilled it. The 35-yard field goal was good, and the comeback was finished. Thompson defeated Auburn, 29-28.
Thompson had officially scored 10 points in just 18 seconds.
Take a look out how it all played out:
?I?m basically speechless,? Thompson head coach Mark Freeman told AL.com. ?The way things turned out in the end, the way it happened, is unbelievable.?
Auburn coach Adam Winegarden was absolutely crushed by the loss.
?I really can?t put into words how bad this hurts,? Winegarden told AL.com. ?I?ve never experienced anything like it. Right now, I?m kind of in shock. The kids are in shock. I?m trying to process the end of the game.?
What a remarkable lesson to everyone playing football. Never give up and give your all on every play. Why? Because it could mean the difference between winning and losing a state championship.