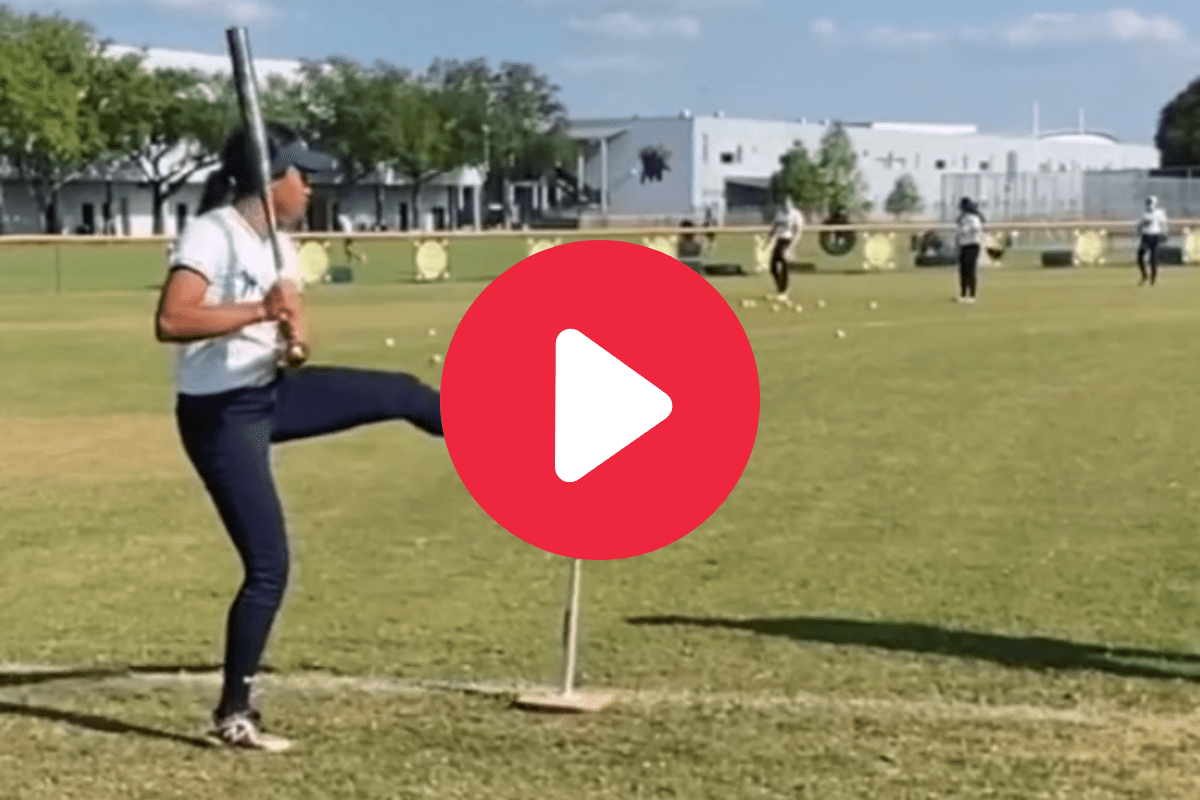 Screenshot from TikTok
Softball takes some serious skill.
Don't believe me? Tune into the Women's College World Series, where ladies throw harder than MLB's flamethrowers and fielders have little to no time to make plays. No matter what a baseball player says, he can't hit a Montana Fouts rise ball.
Time and time again, softball players have proved that it's one of the hardest sports on Earth. Maybe that's why some awesome girls have gone viral for pinpoint accuracy or cat-like reflexes.
High schooler Tieley Vaughn became a social media sensation for her nifty bat tricks before a game.
Softball Player's Bat Tricks Go Viral
RELATED: Softball Pitcher?s Cat-Like Reflexes Made Her an Internet Sensation
Tieley Vaughn is a softball player and cheerleader at Wharton High School in Tampa, Florida.
She's also a University of South Florida softball signee and is set to become a NCAA Division-I athlete because she can "play nearly any position on the field," according to gousfbulls.com.
Tieley went viral on social media app TikTok for a sequence of bat-handling tricks. She twirled it around, bounced it off the ground behind her and kicked it off the tee to crush it. Then, she hit a soft toss pitch her teammate threw her and finished the routine off with a backflip.
The video has 3.8 million views and counting. It also has more than 770,000 likes since she posted it.
Many comments were in support of Tieley. One commenter told her "that was sick" and another said she "killed that."
However, not everyone was impressed.
"Good job hitting a ball 20 feet," one negative Nancy said.
"All that for routine fly balls," another chimed in.
Considering most people can't even do a flip or swing a bat without looking like a little kid whacking a piñata, I'd say Tieley Vaughn is awfully talented. I just wonder how many takes the video took.
This video was actually a follow-up to Tieley's original bat trick video. This one featured some of the same moves and garnered even more traction (4.5 million views and nearly 500,000 likes) on TikTok.
Softball fans will get to see Tieley Vaughn playing NCAA softball real soon. After leading Wharton as a two-time All-Conference selection, she earned the attention of USF softball coach Ken Eriksen.
"Having known Tieley for the last eight years and watching her develop into the athlete that she has become has been exciting," Eriksen told gousfbulls.com. "She has earned everything that she has attained. The competitive nature that she challenges everyday has prepared her for each level of softball that she gets to. Having had international experience with Team USA will lend itself to the transition to Division I softball."
I'm sure Tieley isn't done showing off her skills.