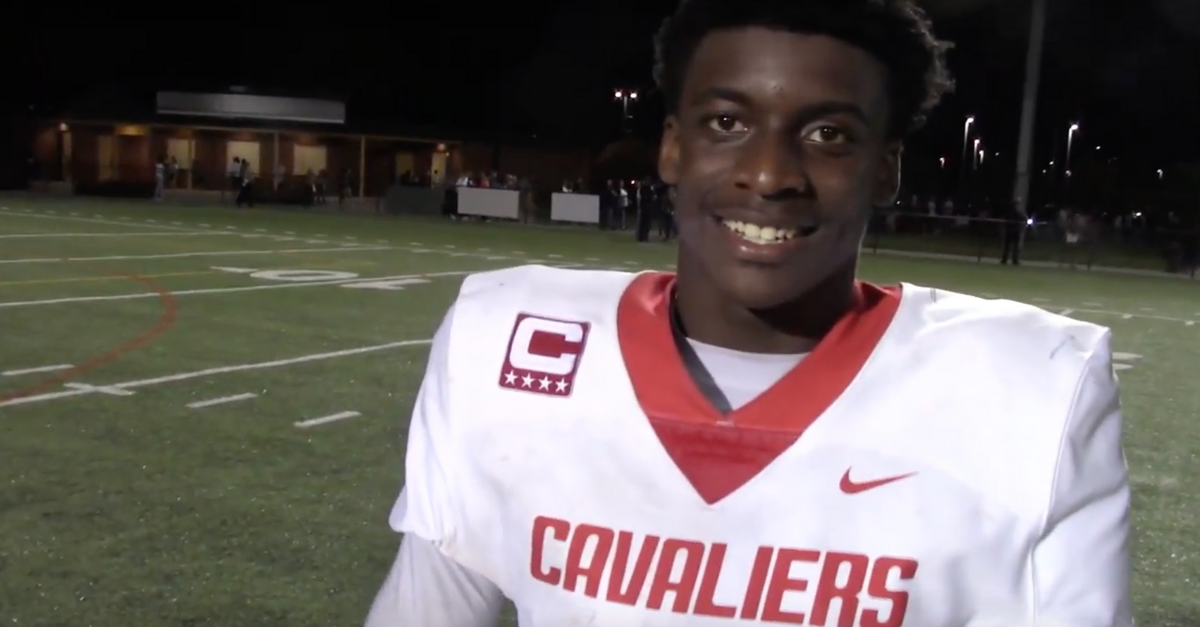 Screenshot from YouTube
The prolific offenses of college football are everywhere now more than ever, so the importance of players who can help defend against them are even more vital. Bringing in top recruits on the defensive side of the ball is the name of the game, and cornerback Tony Grimes is a player that every top program is battling for.
As the top cornerback in the Class of 2021, and also one of the best players in the country moving towards his senior season at Princess Anne High School in Virginia Beach, Virginia, Grimes is one of the hottest names available.
RELATED: Nation?s No. 8 Recruit Sticks with SEC Commitment
Ranked as the top corner in the recruiting class by the 247Sports Composite, ESPN, and Rivals, Grimes is also in the top-13 nationally and the No. 1 player from the state of Virginia by every recruiting service.
Grimes is ranked the highest nationally by ESPN, sitting at No. 6 in their ESPN Junior 300. Even though he is ranked that high, ESPN only has him ranked as a four-star recruit while the other services have him rated as a five-star prospect heading into his senior season.
Not only is Grimes a talented recruit, but he is also seen as one of the best in a class with a ton of talent at defensive back. With safety James Williams and corners Ga'Quincy McKinstry and Isaiah Johnson all rated as five-star recruits, there is some serious talent headed into the college football defensive backfield in 2021.
CB Tony Grimes Recruiting
On January 21, Grimes posted a tweet stating he would be committing on December 1, 2020. He had yet to announce a final list, but he definitely has more than enough options to choose from.
Grimes holds at least 41 scholarship offers with the usual suspects sitting atop that list with a great chance of pulling in the prized cornerback. 247Sports has Alabama, Clemson, Georgia, Ohio State, Penn State, and Texas A&M as the leading schools.
Florida, Florida State, LSU, Maryland, Michigan, North Carolina, Notre Dame, Oklahoma, South Carolina, and Virginia Tech are also some of the programs to have offered, among many others.
Tony Grimes Highlights
To earn the national attention Grimes has, he obviously has dominated at the high school level. And not only has he performed at a high level for Princess Anne High School during his fall season, but also at camps like the Rivals 3 Stripe Camp in Washington, D.C., where he earned MVP honors.
Grimes has also shown he is a playmaker on the offensive side of the ball, which should be no surprise since most talented high school players are tasked with playing multiple positions. However, it is covering receivers that sets him apart. In 2019, Grimes intercepted four passes while also making 48 tackles.
He has proven he can play on the outside and in the slot.
Grimes definitely has future first-round NFL Draft potential and can be an impact player as soon as he steps on campus.
We have some time before that can be proven right or wrong, but it seems like every program in the country would agree on his potential in college football.
This article was originally published February 12, 2020.
---
UPDATE (April 8, 2020): On his birthday, Grimes announced the eight schools he would be focusing his recruiting on ahead of his final high school season. Some usual suspects are on the list in powerhouses like Clemson, Georgia and Ohio State, while ACC teams Virginia and North Carolina also made his top eight.
Clemson Tigers
Georgia Bulldogs
North Carolina Tar Heels
Ohio State Buckeyes
Penn State Nittany Lions
Tennessee Volunteers
Texas A&M Aggies
Virginia Cavaliers
---
UPDATE (June 1, 2020): About a month later, Grimes cut his list once again with four schools remaining headed into the summer.
Tony Grimes' top four schools are Georgia, North Carolina, Ohio State and Texas A&M.
---
UPDATE (June 30, 2020): Joining CBS Sports HQ, Tony Grimes announced that he intends on playing college football for the North Carolina Tar Heels.
The verbal commitment comes as UNC continues to raise its stock with BCS National Championship winner Mack Brown as head coach. Including quarterback Drake Maye and strong-side defensive end Keeshawn Silver, the addition of Grimes gives North Carolina a top-five recruiting haul for the Class of 2021.
Tony Grimes Commits to North Carolina