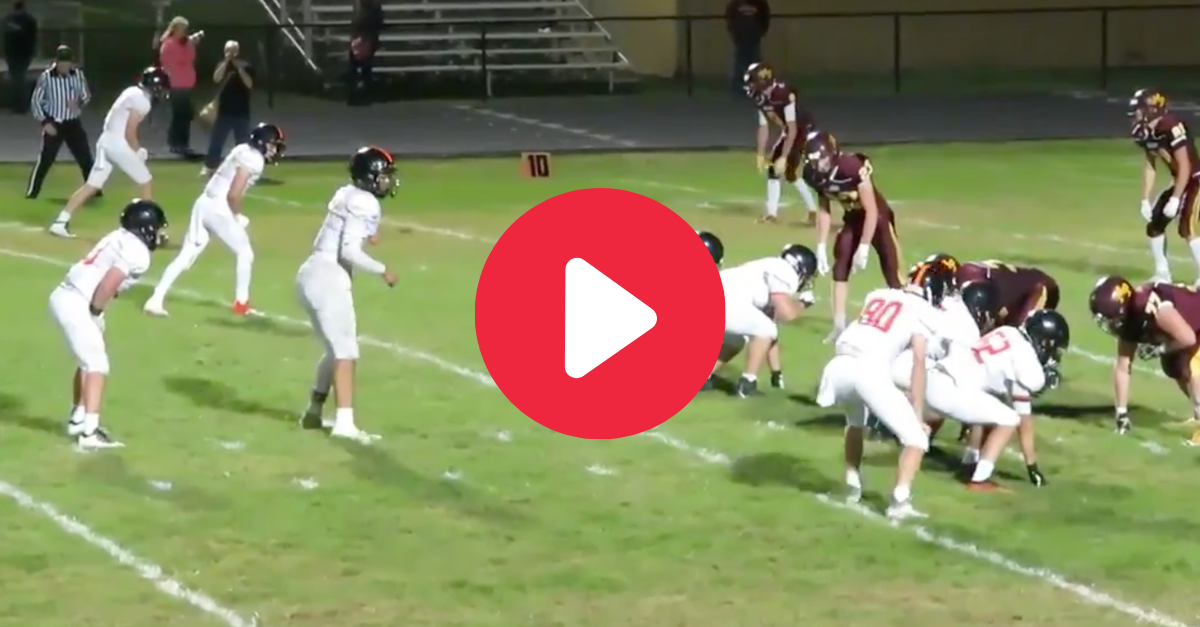 Screenshot from Twitter
Trashaun Willis is not your typical high school quarterback. He?s listed at 6-foot-6 and 235 pounds, and is a threat to score a touchdown on every snap. What makes it even more impressive is he?s doing it all with one arm.
Willis is a star. There?s no better way to put it. He first went viral on social media for dunking a basketball in eighth grade. Now, he is dominating Iowa high school football and making it look easy.
A hole in the defense? Willis will run right through it. An open receiver? He will fire a rocket right on the money. He?s been doing this for years and the world got a reminder of his greatness when he scored six touchdowns in a single game.
Trashaun Willis: The Amazing One-Armed High School QB
RELATED: Female Quarterback Throws 42-Yard TD on First Varsity Pass
Being a quarterback in general is tough. Doing it with one arm seems impossible. Yet, somehow, Trashaun Willis makes it look like a walk in the park.
When his Washington High School Demons played the Mt. Pleasant Panthers on Friday night, the gridiron was his own personal playground. He scored six total touchdowns, including three through the air and another three on the ground, according to the Southeast Iowa Union.
The 6-foot-6, 235-pound Willis went 13-for-19 for 129 yards and added 95 rushing yards. It was an absolute clinic in his squad?s 41-27 victory.
Willis? first touchdown of the game was a four-yard run. He then connected on a 28-yard touchdown pass to Ethan Patterson. The one-armed quarterback found Patterson again for a three-yard touchdown moments later. Oh, and that was just the first quarter.
?Getting points on the board that early is something that, if you want to win the game, you need to do,? Willis said. ?Coming out here and recovering that fumble did so much for us. It gave us so much momentum.?
In the second half, Willis broke the game open with a 30-yard touchdown run, a 17-yard touchdown pass to Spencer Sotelo and then iced the game with a three-yard run with just over two minutes remaining.
Simply put, the Mt. Pleasant High School football team had no answers for Trashaun Willis, who was born without his left arm, during the coronavirus pandemic and COVID-19 outbreak.
According to MaxPreps.com, Iowa high school quarterback Trashaun Willis is expected to graduate in 2021. CBS Sports said he received his first college football offer from Loras College in Iowa this summer.
Willis is a dominant high school football player. He could carry it on to the next level. Who knows, maybe he can play in the NFL with one arm like Seattle Seahawks linebacker Shaquem Griffin.
Only time will tell what the future holds, but there?s no doubt it?s fun watching Willis play.