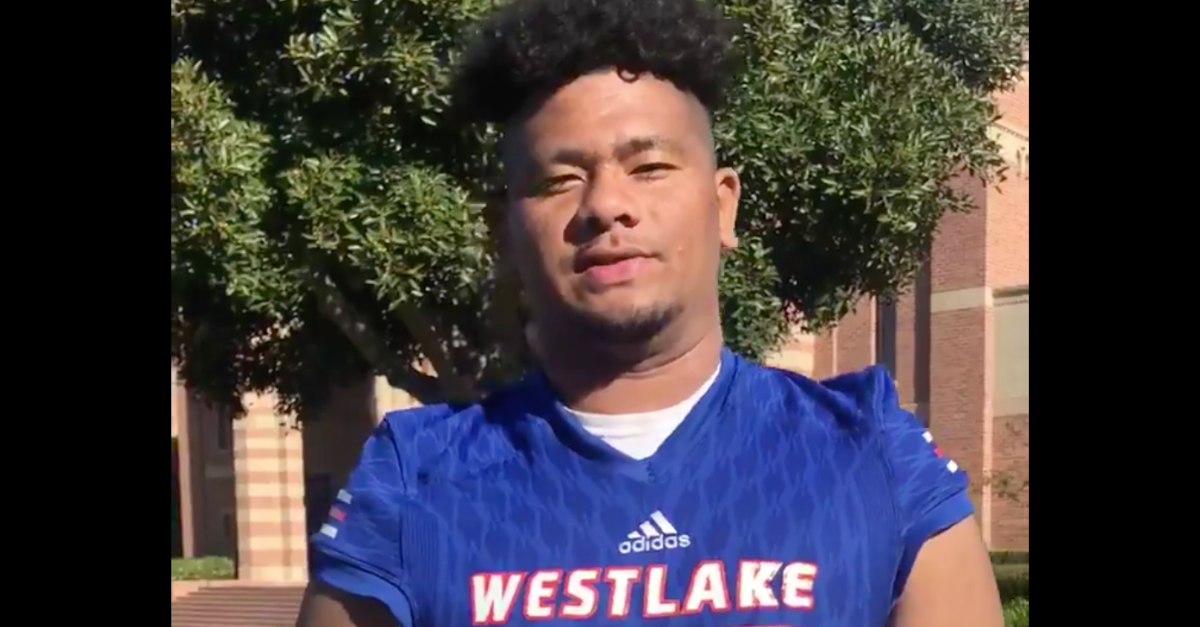 Screenshot from Twitter
Texas A&M Aggies head coach Jimbo Fisher is a household name in college football. Wherever he goes, success follows, especially on the recruiting trail. He's definitely not afraid to leave the Lone Star State to find his next star players, either, and he just landed another from Westlake Village, California.
Defensive tackle Victory Vaka, a four-star prospect from Westlake High School, has committed to Texas A&M. The 2021 standout is the sixth member of the Aggies' upcoming football recruiting class and brings the size, strength, and talent to be a force for years to come.
TAMU had some heavy competition for Vaka, including in the SEC, but he's headed to College Station after next season and announced it on social media.
DT Victory Vaka Commits to Texas A&M
RELATED: Nation's No. 1 All-Purpose RB Announces College Commitment
Victory Vaka's offer list is impressive. According to 247Sports, Michigan, Oregon, Arizona, Arizona State, BYU, Colorado, Florida, Florida State, Kansas, LSU, Mississippi State, Nebraska, Tennessee, Utah, Vanderbilt, and Washington State were all after him.
At the end of the day, though, it was the Aggies who won him over.
"First of all, just wanted to thank my Lord and Savior, Jesus Christ for the countless blessings He has bestowed upon me. Secondly, I want to thank the coaches who have recruited me throughout this entire process in allowing me an opportunity to go to such great schools and play for such great programs. Third of all, I want to thank any family, friends, teachers, administrators, and teammates who have been apart of my life and have impacted me in any way. Last but never the least, I want to thank my mom for being my backbone throughout my entire life and making the necessary sacrifices in order for her children to live a better life than she did.

"With that being said, I would like to announce for the next 3-4 years, I will be attending… Texas A&M University."
Vaka has official visits to Michigan, Oregon, and Texas A&M planned this fall, as long as the coronavirus pandemic allows it, but there's no doubt the Aggies are the NCAA football team to beat for the defensive line star until December's Early Signing Period.
DT Victory Vaka Highlights
247Sports' Brandon Huffman projects Victory Vaka as a "multi-year Power 5 starter" and understandably so. At 6-foot-2 and 350 pounds, the linemen already has the size to compete at the next level and possibly in the NFL down the road.