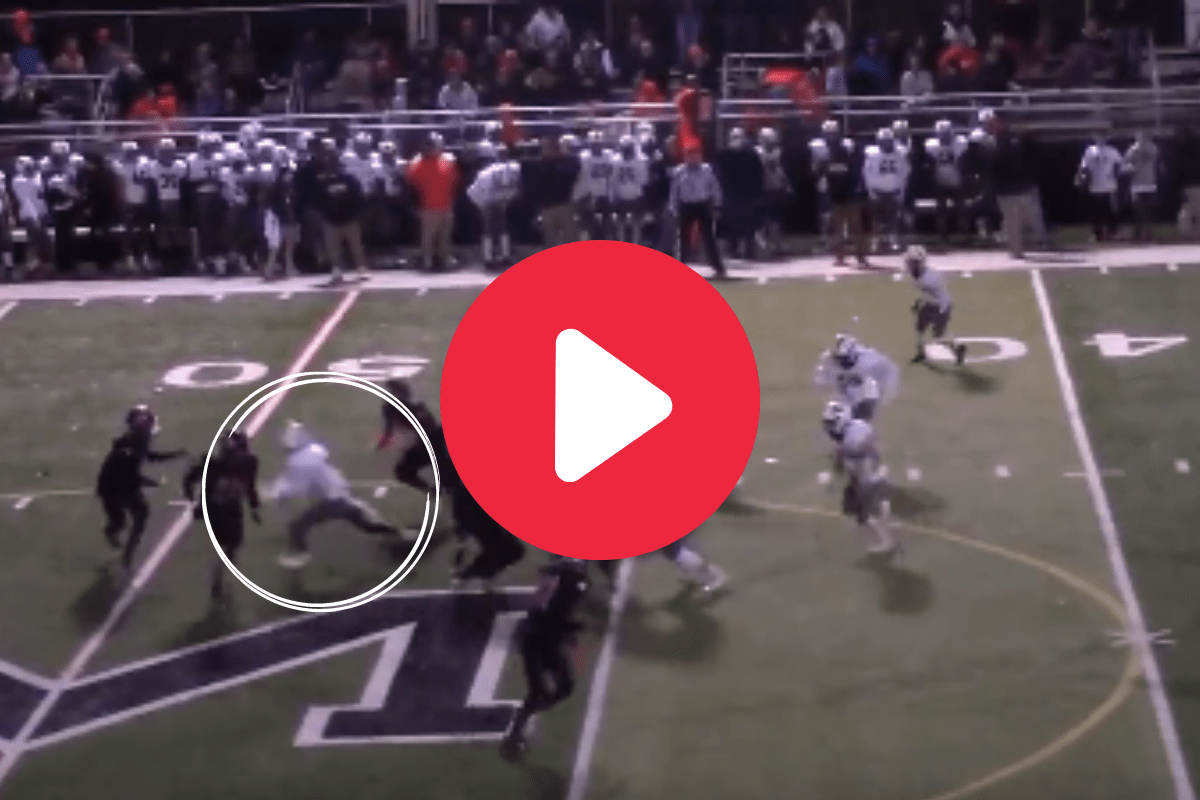 Screenshot from Twitter
There are some guys out there who live in the weight room. There are other guys who live on the practice field. Then there are guys who live on the couch after watching seven hours of commercial free football plus a primetime nightcap and some pool with the boys.
Wakeem Page lives in the film room. The defensive back from Cathedral Prep in Erie, Pennsylvania watched every frame of Meadville High School's season. He dissected, absorbed and had their whole playbook ingrained in his memory by the time the two teams took the field.
Page's dedication resulted in an improbable defensive play you rarely see on the gridiron.
Wakeem Page's Pitch Interception
RELATED: High Schooler Incredibly Intercepts Spike Attempt to Save Game
Meadville had just entered Rambler territory and was looking to finish the drive with some points on the board.
The offense is lined up in a heavy set with two running backs plus a tight end and a lone receiver. Page had seen this before. Hours and hours of watching film alert him this play is going to be a run.
He sneaks up to the line of scrimmage seconds before the play and bolts into the backfield as the Meadville quarterback takes the snap. The signal caller pivots to his left to make a pitch. Page is there to snatch it away before anyone realizes what happened. He takes it to the end zone for the touchdown.
The high school football play went viral all over social media and on ESPN, racking up over 2.2 million views on TikTok as of the publishing of this article. As millions of people watched, Page revealed his viewing habits.
?We?d been watching film (of Meadville?s offense),? Page told GoErie.com, ?so I knew when (the quarterback) moved out about two yards that it was going to be a pitch play. I shot the gap and (the ball) just landed in my hands.?
Cathedral Prep would go on to win 62-28. Page's interception wasn't his only highlight of the night, either. The junior also had a 25-yard fumble return for a touchdown to go along with a 15-yard scoring catch on the other side of the ball.
When he's not scoring touchdowns, you can find Page in the film room scouting his next prey.
Related Videos