Baseball's offseason is a time of limitless possibilities, as teams frantically scrabble for star players, often hurling money in every direction as they chase that World Series dragon. Certain teams are usually the "winners" of the free agency period (the Dodgers, Mets, Yankees, Phillies, and Red Sox are known for spraying bills every which way) but even some underrated teams get in on the action occasionally - witness Max Scherzer signing with the New York Mets last year or the Toronto Blue Jays signing George Springer the previous season. Sure, some teams never seem to spend (have the Cleveland Guardians, Oakland Athletics, or Kansas City Royals ever made a big-name signing?), but pretty much everyone else has some kind of record to gauge - and some teams have done way worse than others. We're talking about the worst MLB free agent signings.
For every Max Scherzer to the Nationals, Randy Johnson to the Diamondbacks, Greg Maddux to the Braves, or Manny Ramirez to the Red Sox, there are two dozen deals that really, really don't work out beyond Opening Day. A few ground rules: first, I'm leaving one-year deals out of this, because no matter how bad they went, teams were only on the hook briefly. Second, there aren't going to be any relievers on this list, because none of the dollar values were quite high enough to qualify, even on the worst deals. Third, it's not just about raw dollar amount; there are a few deals from the '90s that were so legendarily bad, they couldn't be left off these rankings. Aside from that, pretty much anything is fair game.
Anthony Rendon, Los Angeles Angels: Seven years, $245 million, 2019
RELATED: The Angels Curse: How Ancient Burial Grounds Caused Decades of Death and Tragedy
For years, the Washington Nationals have been known for their star sluggers. Bryce Harper, Trea Turner and Juan Soto were just a few of the solid ballplayers that took the field in D.C.; almost all of whom have since left. Turner was dealt to the Los Angeles Dodgers in 2021, Soto was traded for a slew of prospects in 2022, and Bryce Harper left in free agency following the 2018 season, signing with the Philadelphia Phillies, leading them through the playoffs to a World Series appearance against the Houston Astros. However, a fourth name broke out in Washington but has failed to find success since, despite his massive free-agent contract. Anthony Rendon kicks off our list of the worst free agent signings in MLB history.
Rendon signed a mega-deal with the Los Angeles Angels following a successful 2019 World Series run with the Nationals. As the veteran presence on the Nats, sandwiched between Turner, Adam Eaton, Juan Soto and Howie Kendrick, Rendon led the world champions in almost every offensive category. Across the entire Washington roster, Rendon's 7.1 WAR was 1.2 points higher than the next player, Stephen Strasburg. So with a career year creating buzz around the league, Rendon cashed in, signing with the Angels.
It's hard to say what has dried up more: the ink on Rendon's signature or Rendon's offensive production. In his first three years in the AL West, Rendon has failed to play more than 58 games in a single season. Part of this is due to injury and the COVID-19 pandemic, but when he has seen the field, Rendon has played more like he's worth $245 rather than $245 million. In those three years, Rendon's production has plummeted and he's just now at the halfway point of his contract. With the Angels continuing their horrible downward spiral, Rendon's contract will be a roadblock in their future rebuild.
Josh Hamilton, Anaheim Angels: Five years, $125 million, 2012
Related: What Happened to Josh Hamilton and Where is He Now?
Anaheim keeps signing free agent after free agent trying to put a competitive team around Mike Trout. Sometimes, like with Shohei Ohtani, it (eventually) works out. Other times, they sign Josh Hamilton. Hamilton had been one of the best outfielders in baseball prior to heading to Anaheim, winning an MVP in Texas in 2010 and starring in the postseason. He uh...didn't have those numbers afterward. Hamilton hit badly, got hurt, and even fell off the drug addiction wagon. By the time he was traded back to Texas two years later for a player to be named later, his career was all but over.
Mike Hampton, Colorado Rockies: Eight years, $121 million, 2000
There's a reason no Rockies pitcher has ever won a Cy Young. At the turn of the millennium, Denver badly wanted a competitive major league pitching staff - apparently, at the time they still thought they could pay their way out of the thin Colorado air. Mike Hampton was their big get, a star in Houston and New York coming off 11.4 WAR over the past two seasons combined. The wheels came off immediately: Hampton posted -4.6 WAR over just the first two seasons of the contract. Mercifully, those were the only two years in Colorado: they traded him to Atlanta after that.
Bobby Bonilla, New York Mets: Five years, $29 million, 1992
Related: "Bobby Bonilla Day" is a Million-Dollar Treasure
This one kind of belongs in a category on its own. Entering free agency after the 1991 season, Bonilla had just made four straight All-Star teams with the Pittsburgh Pirates, so the Mets made him the highest-paid player in the National League. And the thing is...despite all the criticism this contract gets, Bonilla's performance in New York wasn't horrible; he made an All-Star team and put up 8.3 WAR over four years. Not amazing numbers, but passable. But the reason it makes this list is the uniquely, hilariously bad deferred money structure: as part of the agreement to release him before the fifth year of his contract, the Mets agreed to pay Bonilla $1.19 million/year for 25 years starting in 2011. They are still making those payments (Mets fans sarcastically refer to the annual July 1 date as "Bobby Bonilla Day"), and by 2035, the Mets will have paid Bonilla $29.8 million for a final last year in which he didn't even play for them - more than the initial value of the contract.
Russ Ortiz, Arizona Diamondbacks: Four years, $33 million
This is a much lower dollar amount than most of the names on this list, which really goes a long way to demonstrate how bad Ortiz was in Arizona. Ortiz was a consistently productive - if not spectacular - starter over eight seasons for the Giants and Braves, but when he signed this contract, all of his skills apparently went away at once. Ortiz only lasted two years and put up an unfathomable 7.00 ERA and -2.2 WAR in that timespan.
Melvin Upton Jr, Atlanta Braves: Five years, $72.3 million, 2012
There have been a lot of bad free agent signings, but as far as I know, there was only one that went so badly the player involved actually changed his name. Known as "B.J. Upton" or "Justin's brother" at the start of this deal, by the end of it, Melvin Upton Jr. was known more as "we paid HOW much for that guy?!" The Atlanta Braves are generally pretty good when it comes to free agent signings, but this one was a rare whiff.
Wei-Yin Chen, Miami Marlins: Five years, $80 million, 2016
Chen was a decent middle-of-the-rotation starter with the Baltimore Orioles prior to this deal...but what on Earth possessed the Marlins to hand out a five year deal at this AAV?! This wasn't the biggest deal by any means, but on a value-per-dollar basis, it has a case as one of the worst contracts ever; Chen lasted four seasons and posted -0.6 WAR.
Ian Desmond, Colorado Rockies: Five years, $70 million, 2017
This is one of the few contracts on this list that confused everyone even at the time. Desmond had been a good player for seven seasons in Washington and a decent one for a year in Texas, but he wasn't a shortstop any more when the Rockies signed him, and it wasn't clear what they thought they were even getting for that money. Whatever it was, they didn't get it: Desmond put up -2.5 WAR over three years before Colorado finally cut bait.
Milton Bradley, Chicago Cubs: Three years, $30 million, 2009
Everyone and their mom knew this one was going to blow up. Bradley was coming off his best season in Texas, but there were enough red pennants here to populate a Six Flags. His track record was inconsistent, he was on the wrong side of 30, and, oh yeah, he was a crazy person, feuding with teammates and later serving prison time for domestic violence. The Cubs ultimately dumped him on the Seattle Mariners after one season in exchange for an even worse contract in Carlos Silva (but at least a guy who wasn't going to spontaneously start a brawl in the clubhouse).
Jacoby Ellsbury, New York Yankees: Seven years, $153 million, 2014
The Yankees are known for consistently winning the offseason. Sometimes, it works out: the Alex Rodriguez trade turned out to be a great deal, as was the overseas signing of Masahiro Tanaka. Other times...well, other times this happens. Thing is, this actually looked like one of their better deals at the time: Ellsbury was a spectacular player when healthy in Boston, and surprisingly, he mostly did stay healthy in New York. He also wasn't perhaps as bad as people remember him being: 9.8 WAR over four seasons is slightly above-average. But when you're getting paid $22 million/year under the biggest spotlight imaginable, that's not going to cut it.
Mo Vaughn, Anaheim Angels: Six years, $80 million, 1998
Related: Mo Vaughn Made $100 Million in Baseball, But Where is He Now?
One look at Mo Vaughn and you knew he was a ticking time bomb. Much like Prince Fielder's signing with the Tigers, Vaughn's body type was eventually going to catch up with him. Through age 30 with Boston, Vaughn had been a consistently productive player - and then Anaheim did the Anaheim thing and signed him to a big deal, thinking his numbers would magically stay good through his 30s. He had two decent-if-unspectacular seasons before the wheels came off, his body broke down for good, and he put up -1.2 WAR for the rest of his career (thankfully for the Angels, at least it was with the Mets).
Adam Dunn, Chicago White Sox: Four years, $56 million, 2011
The dollar value isn't huge here, which is how you know the production must've been disastrous - and it was. The first year after this deal was a toilet fire, with Dunn hitting .159/.292/.277. He was always the avatar of the Three True Outcomes (walk, home run, strikeout), and he did hit 106 homers over the life of this deal - but he also put up -0.4 WAR over its course (including an unfathomably bad -2.9 in the first season).
Pablo Sandoval, Boston Red Sox: Five years, $95 million, 2014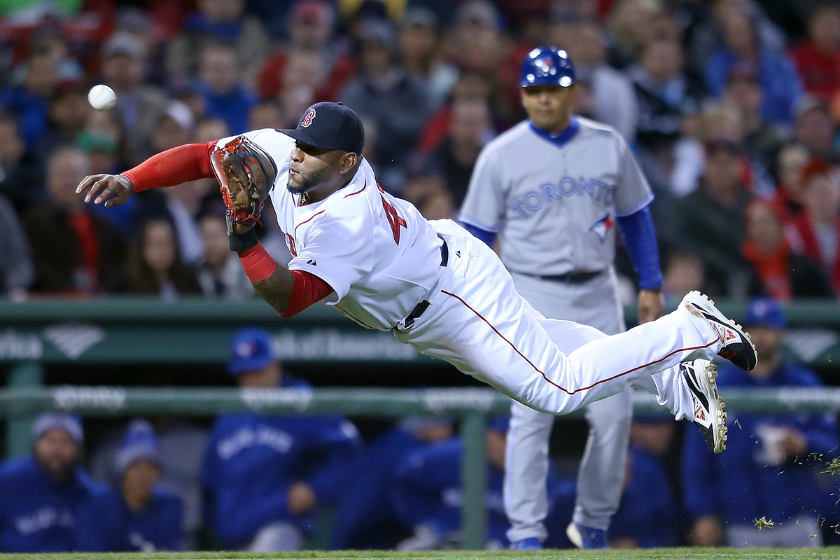 It's wild to remember that there was a time when Kung Fu Panda was considered one of the best third baseman in MLB. Sandoval was a World Series hero in San Francisco when the Red Sox handed out this huge contract. To say it went badly was an understatement: he was never in shape, his bat stopped working, and he was somehow even worse in the field. He was Designated For Assignment after three seasons (in two of them, he didn't even play 35 games).
Chan Ho Park, Texas Rangers: Five years, $65 million, 2002
The wild thing about this one was it was so unexpected. Chan Ho Park had been one of the most consistent pitchers in the league, posting at least 3.0 WAR in four out of five previous seasons with the Dodgers (not to mention pitching at least 192 innings each year). When he got to Arlington, though, everything went wrong: he was never healthy (never pitching more than 145 innings in any season), and when he was, he was deeply ineffective. Park posted a 5.79 ERA and 1.2 WAR over four years before the Rangers mercifully dumped him on the San Diego Padres.
Albert Pujols, Anaheim Angels: Ten years, $250 million, 2012
RELATED: The Winners and Losers of the 2022 MLB Regular Season
I am sensing a team-based theme here. The Angels have been desperately trying to lure great free agent hitters since the 1990s, yet every time it seems to go horribly wrong. Pujols was no exception; after 11 years and 3 MVP awards as the best all-around player in baseball with the St. Louis Cardinals, his career careened directly into a ditch in Anaheim (again, sound familiar?). Pujols actually did much better in southern California than Hamilton or Vaughn - he had three 3.0 WAR seasons, including a 4.8 WAR year in the first year of this deal. But they were paying him to be the best (or second-best) player in baseball, and that's not the guy they got.
Carl Crawford, Boston Red Sox: Seven years, $142 million, 2010
Related: Carl Crawford's Son Has All of His Dad's Tools to Be an MLB Great
Sometimes, when making a life-changing decision, a person should take more than five minutes take all the factors into account. That's not what Carl Crawford did when signing with the Boston Red Sox. Crawford had been a fantastic left fielder for the Tampa Bay Rays, leading the league in triples and stolen bases four times each. He had his best season right before free agency, racking up 7.0 WAR in 2010, then signed a huge contract in Boston. His career immediately tanked. He was shipped out of Boston to the Los Angeles Dodgers after only two years and 0.9 total WAR. Things got a little better for a couple of years in California, but the second Crawford's speed abandoned him, his game fully collapsed. He was out of the league by age 34.
Want More Sports News?
Get the biggest and best sports news sent directly to your inbox.