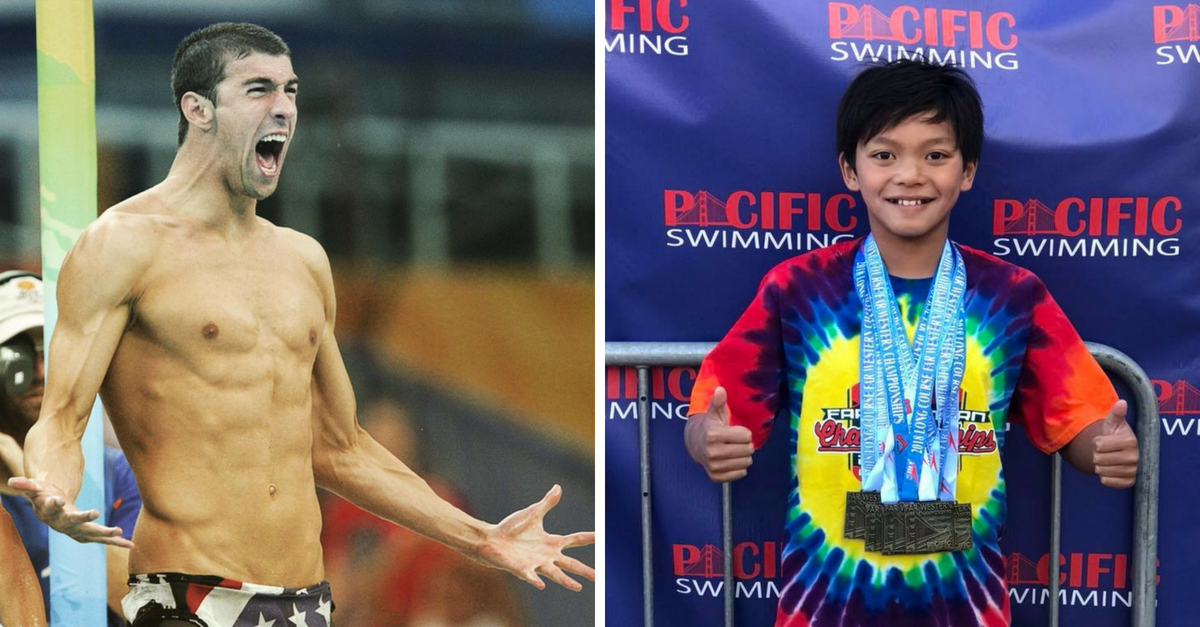 Facebook: Salinas Aquatic Center MCAT
Instagram: @m_phelps00
Facebook: Salinas Aquatic Center MCAT
Michael Phelps is the closest thing to comic book superhero Aquaman the world has ever known. Phelps' superhuman career as an Olympic-caliber swimmer included setting 39 world records and winning 28 Olympic medals, including 23 of the golden variety.
What does it take to catch the real-life Mermaid Man who competed in the Summer Olympics at 15-years-old? Well, apparently it takes a 10-year-old swimmer named Clark Kent Apuada.
"Superman" broke the 23-year-old 100-meter butterfly record, one of Phelps' signature career events, at the Far West International Championship on Saturday in California.
Clark has been swimming competitively for only four years, but he managed to set a swimming record that one of the world's greatest athletes set when he was also 10.
Clark has earned his new superhero name.
"Most people just call me Clark, but now, when I beat Michael Phelps' record, they start calling me Superman," he said. "I thought to myself, yeah if I had positive thoughts, positive things would happen."
The 10-year-old swimming phenom also won six other events at the meet.
"This kid is unlike any other young man that I've ever coached," Clark's coach Dia Riana told CNN. "He's always stood out, he's just, he's kind of a savant of sorts."
Aside from just being a junior champion, the fifth grader has a few other supernatural abilities that match his swimming prowess.
"He does piano lessons, he does martial arts, and at school if there's a computer class, coding, or STEM programs he's always joining," his father, Chris Apuada, said.
If praise from coaches, his parents and the national media weren't enough, Clark Kent got a shoutout from the Olympic gold medalist superhero himself.
Dream big, kid. I don't think this is the last time we'll be seeing Clark Kent Apuada.
The kid might actually be Superman.