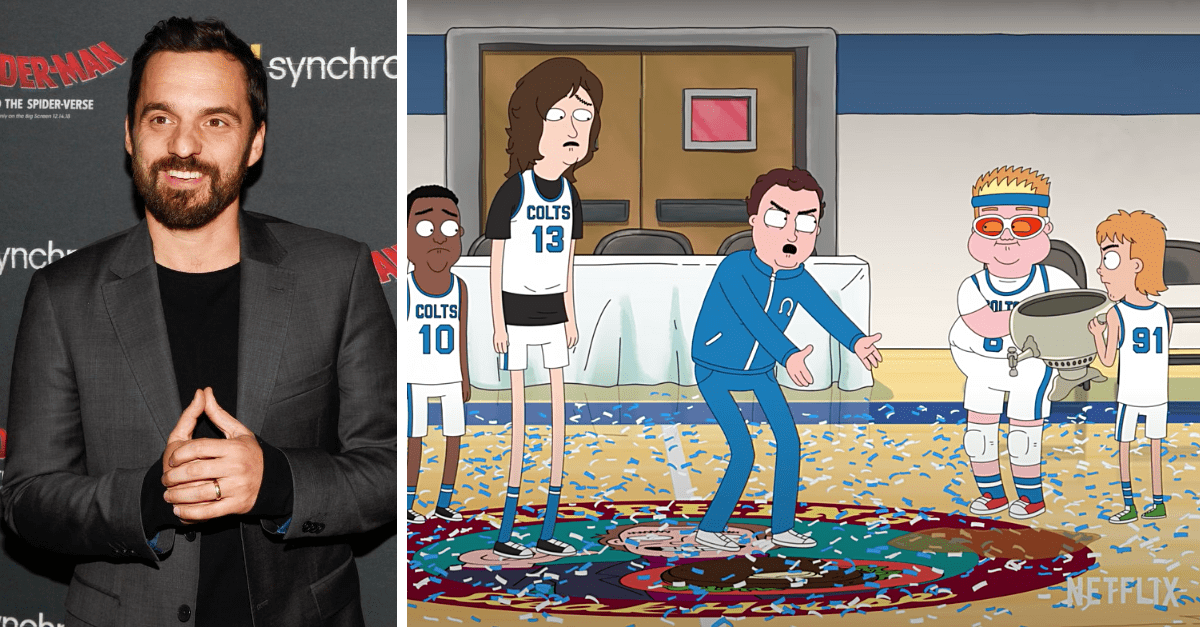 Photo by Andy Kropa/Invision/AP (left), YouTube: Netflix (right)
Netflix kills the game with raunchy, animated adult comedies. I promise that if your sense of humor can handle it, Big Mouth is the funniest show you have yet to watch. The global streaming service has hit big on numerous award-winning programs — Bojack Horseman won two Primetime Emmy Awards for Outstanding Animated Program, and Disenchantment was created by Simpsons legend Matt Groening.
Sports fans are getting their turn with the release of Hoops, the comedic brainchild of creator Ben Hoffman.
Warning: This trailer contains (a lot of) NSFW language and images.
Official Trailer for Netflix's Hoops
Netflix's teaser of the animated TV show is enough for me to know I'll watch the entire first season in two days:
"A foul-mouthed high school basketball coach is sure he'll hit the big leagues if he can only turn his terrible team around. Good luck with that."
Hoops stars Jake Johnson, who voices Coach Ben Hopkins. You know Johnson as the incomparable Nick Miller from the Fox sitcom New Girl, as well as movie roles in Get Him to the Greek (2010), 21 Jump Street (2012), The Mummy (2017) and Tag (2018).
Flanking Johnson on the Hoops cast is a collection of comedic voices with decades of experience between them who are sure to resonate with anyone tuning into this trending TV series.
Hoops Netflix Cast
– Jake Johnson as Coach Ben Hopkins

– Rob Riggle as Barry Hopkins

– Natasha Leggero as Shannon

– Ron Funches as Ron

– Cleo King as Opa

– A. D. Miles as Matty
For my fellow New Girl fans, you're in luck. Netflix announced that Johnson's New Girl cast co-stars Max Greenfield, Damon Wayans Jr. and Hannah Simone lend their voices to the raucous animated comedy. The streaming service included Will Forte, Nick Swardson, Sam Richardson, W. Earl Brown, and the Mayor of Flavortown Guy Fieri in their announcement (via Collider).
Netflix also credits Steve Berg, Eric Edelstein, Ben Hoffman, Mary Holland and Gil Ozeri as Hoops voice cast members.
When Is The Release Date for Netflix's Hoops?
The entire first season of Hoops drops on August 21, 2020. There's been no shortage of excitement about the animated series, especially with the coronavirus pandemic and COVID-19 keeping us all (mostly) locked down indoors over the summer.
Executive producers on the Bento Box Entertainment and 20th Century Fox Television collaboration include Ben Hoffman, Phil Lord, Christopher Miller, Seth Cohen, M. Dickson, Jake Johnson, Jeny Batten, Aubrey Danielson, Mike Gibbons and Jason Stiff (via IMDB).
At the height of the NBA's Orlando bubble, taking a breather from greatness like LeBron James and Giannis Antetokounmpo with a raunchy basketball comedy series headlined by this god awful team is exactly what the doctor ordered.
Check out more from the Netflix series here.