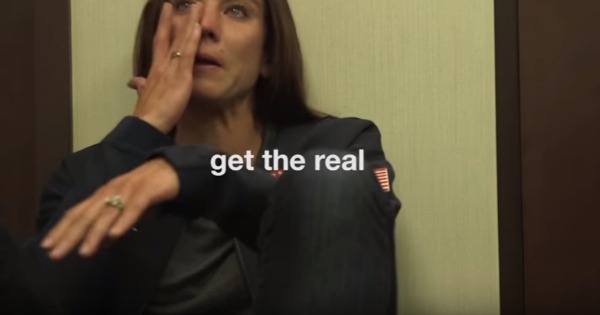 YouTube screen shot
If Hope Solo's looking for sympathy, she's likely to be looking for a long time.
The U.S. Women's National Team goalie was suspended for 6 months for her less than gracious comments about team Sweden at the Rio Olympics earlier this month. In her sore loser diatribe, which came after U.S.A.'s penalty shootout loss, Solo called the Swedes "a bunch of cowards" and lashed out at the team for what she labeled a "cowardly" strategy.
The suspension comes after multiple transgressions by Solo over the past couple of years for which she escaped reprimand, including a failed drug test and a domestic violence arrest, not to mention trashing coaches and berating teammates. Considering that the team has just two events scheduled during her suspension period, it could also be viewed as a timely slap on the wrist.
RELATED: Hope Solo shows she's a disgrace and a sore loser with these comments
But that didn't stop Solo from continuing on with her classless behavior. In a documentary series entitled "Keeping Score," Solo goes on another expletive-laced rant when she finds out she's been suspended. And it's getting quite a bit of play on YouTube. As Solo said herself in response to the suspension, "I could not be the player that I am without being the person that I am." That person has been laying the seeds for this sort of end for quite some time.
Executive director of USWNT Players Association sent out this tweet in response to the 35-year-old goalkeeper's suspension:
https://twitter.com/GrantWahl/status/768602732425048064?ref_src=twsrc%5Etfw