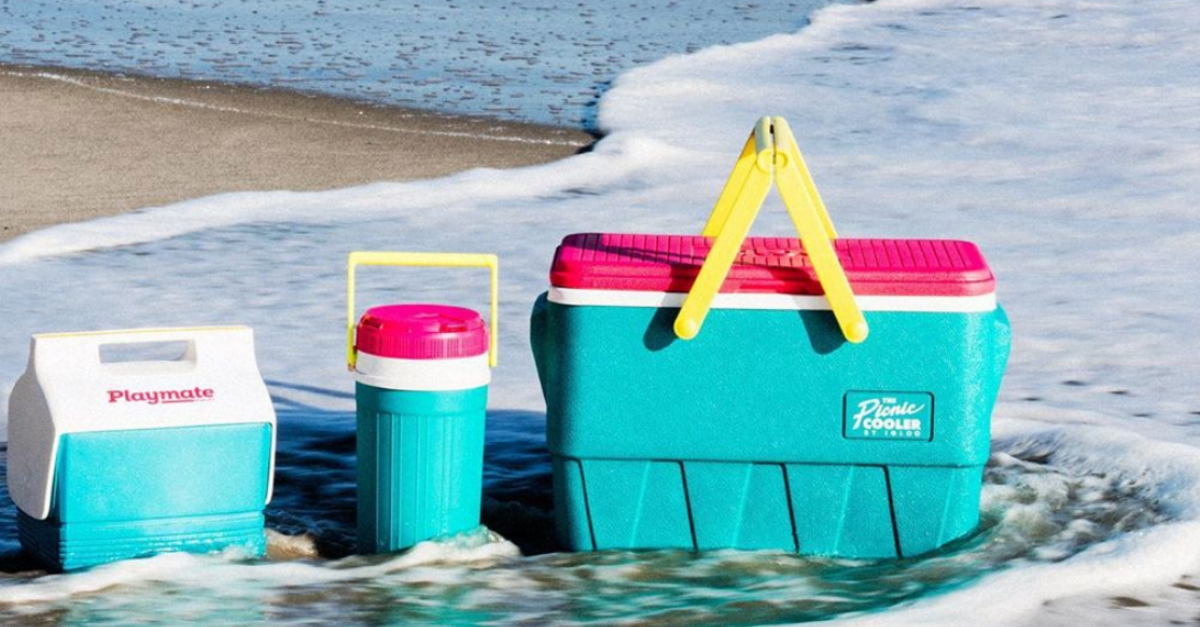 Instagram: IglooCoolers
Remember hitting the beach or camping in the outdoors back in the 1990s? At a time before social media bullying and nose hair extensions (Yeah, you read that right.), getting away from the grind of daily life meant grabbing your family or friends, packing up the car and loading up your Igloo Cooler with all kinds of snacks and drinks for a weekend getaway.
My family's go-to spot was Cooks Forest deep in the Pennsylvania wilderness, and our Igloo mini cooler was the perfect addition for every fishing trip down the Clarion River. Now, the Texas-based American company is bringing back three Igloo coolers and their unmistakable 1990's color palate, which are sure to have you breaking out the Birkenstocks and singing Pearl Jam all year long.
This throwback collection will be produced on the exact same machines that made the original products at the company's headquarters in Katy, Texas. More than 1,200 employees churn out over 500 Igloo products that are sold around the globe. This throwback release is a testament to company's longevity ? Igloo was founded in 1947 ? and loyalty from customers in every corner of the United States.
Perfect for any tailgate and vacation getaway, the company has re-released the famous coolers with a bright color palette and vivid hues just in time for summer!
Retro Picnic Basket Cooler

Remember grabbing this thing by the handles and bringing it on every single summer trip imaginable? The original design is back again, and it's been finished with a colorful take that made it so popular in the 1990s. The 25-quart Igloo picnic cooler is complete with an easy-to-grab carrying handle that fits everything you need for a day by the lake or even your pre-game tailgate!
Even better, the ice chest's texture top is still the perfect make-shift seat for anyone willing to be named the day's official bartender.
Playmate Mini Cooler

This four-quart cooler was probably the most-popular item Igloo Coolers released in the 90s, as it made the perfect grab-and-go item for an afternoon out. The iconic hinge-open lid is back again, which is sure to produce more than a few memories of summers' past.
Half Gallon Water Jug

If you didn't have one of these half-gallon sport jugs at every baseball, softball, football and soccer game back in the day, you were missing out on the greatest piece of this collection. The iconic free-pouring, flip-up spout was the best part of this jug that kept every drink cold for hours on end.
I'm pretty sure mine is tucked deep in my mom's shed back home, but I'm ditching that one for the latest version when the intramural softball summer league finally gets underway.
"When we decided to re-release the Picnic Cooler we thought the only way to do it was to stay true to our roots and relaunch with the same colors, on the same machines, and in the same factory in Katy, Texas. Additionally, selling at Urban Outfitters allows us to bridge the gap of generations ? those who shop there will be able to take a trip back down memory lane and purchase a cooler many of them likely took on road trips with their families when they were kids."

? VP, Marketing of Igloo, Brad Blankinship (h/t Business Wire)
It's an ode to the good old days, but these popular picnic coolers scream modern-day classic. Their throwback aesthetic, functional design and well-known track record of Igloo coolers doesn't just mean you'll be using these limited-edition coolers a few times. Many faithful Igloo customers have had their coolers for over 30 years.
If you ditched yours long ago, it's time to get back to basics, bust out the Aquanet, and pick up your 90s-themed retro coolers today from IglooCoolers.com or UrbanOutfitters.com.