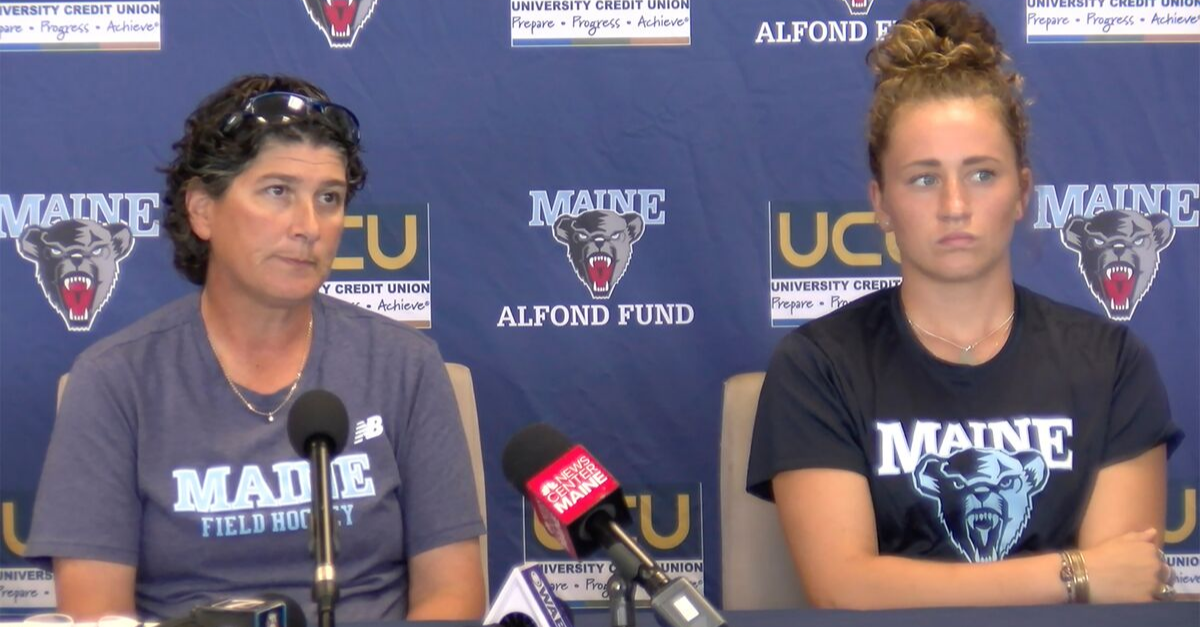 University of Maine Athletics via AP
It's 2019, folks. If you still find yourself part of the crowd that comments and critiques women's sports by saying idiotic, sexist, dumb shit like "Why aren't they in the kitchen," then it's time you shut your mouth and opened your eyes. Competition fuels every aspect of the sports world. From major college football to Division I women's soccer, the constant among it all is the desire, will and drive to be a winner. If you can't see that in female athletics, well, then I bet you don't have the guts to go after something like these girls do.
Sadly, during a neutral-site women's field hockey game between the No. 24 Maine Black Bears and Temple Owls, fans were treated to a confusing and blatantly disrespectful ending to a double-overtime thriller because Kent State's football team needed fireworks in the middle of the day.
That's right. As Maine and Temple were about to begin a second OT with the score tied, a university official told both teams to clear Murphy-Mellis Field so that a fireworks display could be set up. You see, it was Kent State University's Family Weekend out in Ohio, which means, apparently, fireworks in broad daylight were more important than finishing a Division I matchup.
As a results, the game was called a no-contest "scrimmage" and does not count as a regular season game.
"The fact it happened to a women's sports team essentially put us back a little bit. I think it's very unfortunate the decision-making process wasn't thought out more," Temple head coach Susan Ciufo told The Washington Post. "I know we're not a big-revenue sport, but to make young women feel what they did for 70 minutes doesn't really matter, what are we telling young female athletes about what it means to be an athlete"
The National Field Hockey Coaches Association (NFHCA) spent 48 hours reviewing the facts and released a statement detailing its findings.
The NFHCA learned that Kent State emailed both teams in May that a 10:30 a.m. "hard stop" would take place. However, the NFHCA Office found no evidence of this, nor did Kent State communicate what steps would take place should the time limit be reached. The NFHCA condemned the school's "lack of preparedness" and "poor decision-making." The organization also suggested members of KSU's leadership "do some soul searching and to take responsibility" for what happened.
"The optics and the messaging to every field hockey program and to every field hockey player are that while they matter, they don't matter more than pre-game football festivities. We see this as a terrible message being communicated to female student-athletes in this year of 2019. This decision was extremely damaging not only for the participating athletes, their coaches, and their families but for all female student-athletes."

— NFHCA statement
Kent State offered to finish the contest later in the day at 5:30 p.m. about seven hours after the game was ordered to stop. Obviously, that's a bogus compromise.
Temple University Director of Athletics Dr. Patrick Kraft also released a statement condemning what happened during Saturday's contest.
"The circumstances that prevented the completion of our field hockey contest against Maine on Saturday are simply unacceptable and our student athletes and coaches deserved better. Fairness and equality are essential in the mission of college sports and I am disappointed for the student athletes at Maine and Temple whose competition was not deemed worthy to finish."

— Dr. Patrick Kraft, Temple athletic director
RELATED: Nike Salutes Female Athletes With Powerful 'Dream Crazier' Commercial 
"It's brought up a lot of emotions, and first and foremost that's offensive and upsetting to think that because of your gender your sport is looked at as less," Maine senior forward Riley Field said. "We work as hard as any men's team. They work extremely hard, we work extremely hard at a Division I level."
Field, who started 58 out of 59 possible games to start her college athletic career, tweeted a video of the pregame fireworks, just to prove the point that her sport wasn't as important as a shitty fireworks show prior to a football game.
Kent State Athletic Director Joel Nielsen released a statement apologizing to both the Maine and Temple field hockey teams, saying that "a different decision should have been made" and the school "failed" to uphold what college athletics is all about.
University of Maine head coach Josette Babineau said the NCAA is gathering information as this is potentially a Title IX violation, which ensures gender equality amongst college athletics.
This is a disgrace, and Kent State should be ashamed. It's one thing that women's sports already fight an uphill battle when it comes to people appreciating the hours upon hours upon hours of training they put in, but it's something completely different when after 70 minutes of game time, these girls were told to, basically, scram so that a low-budget, daytime fireworks show could take place over an hour later.
Not only that, but the Kent State football team needed overtime just to beat the Kennesaw State Owls, a FCS-level team that plays in something called the Big South Conference.
It's a sad day for women's sports, but once again, thousands of male sports fans are likely to say something stupid like, "Well, that's what they deserve."