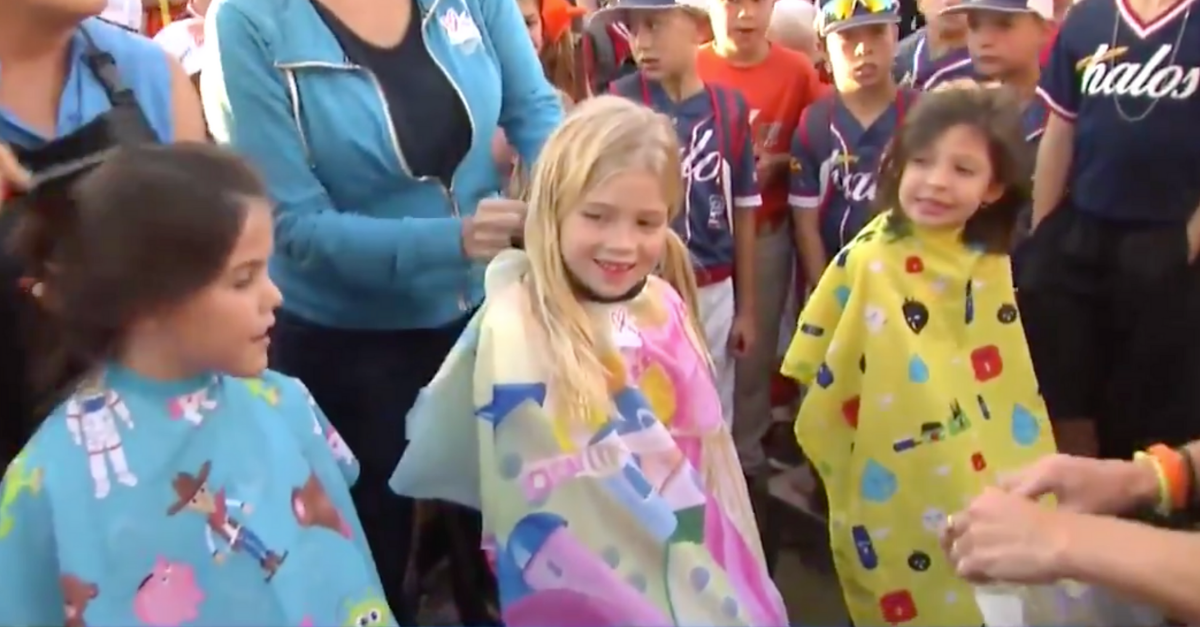 Twitter: Briana Whitney
Cancer sucks. We unfortunately get reminded of that daily. The awful news is something that nobody wishes on their worst enemy, but it oftentimes brings out the best in people looking to support their friends. There's no better example than what happened in Chandler, Arizona.
Meet Leighton Accardo, a 7-year-old girl who loves spending her days on the softball field with her friends on the Peaches. She's enjoyed living a normal life, but she just received the scariest news ever. Leighton has been diagnosed with Stage 4 cancer, which is something her family never saw coming, according to AZ Family.
"That's when they discovered multiple masses throughout her abdomen, on her liver, and on her lungs," Carly Accardo, Leighton's mom, said. "They started chemo the next day."
So after the boys' baseball game earlier this week, Leighton decided to shave her head. A large crowd gathered around to support her and friends brought signs reading "#Shavin4Leighton." But she wasn't alone.
Emily and Katie, Leighton's softball and hockey teammates, sat next to their best friend, holding hands, and decided to shave their heads, too.
RELATED: Scary Moment: Child Struck by Line Drive at Cubs-Astros Game
This is one of the most touching moments you will ever see, with so much love and support from her family, her softball team, and the local youth sports community surrounding the brave 7-year-old as she prepares to battle cancer.
"I'm not scared," Leighton said. "My friends are here with me right now."
"I wanted to be supportive of Leighton. We're really good friends and I just wanted to help her," Emily added.
The three girls aren't the only ones sporting the buzz cut, either. The Peaches coaches shaved their heads, and several of the young boys joined in after their game.
Leighton Accardo wears a bracelet that says "You are Strong. You are Brave. You've Got This."
And now she has the entire country cheering for her.