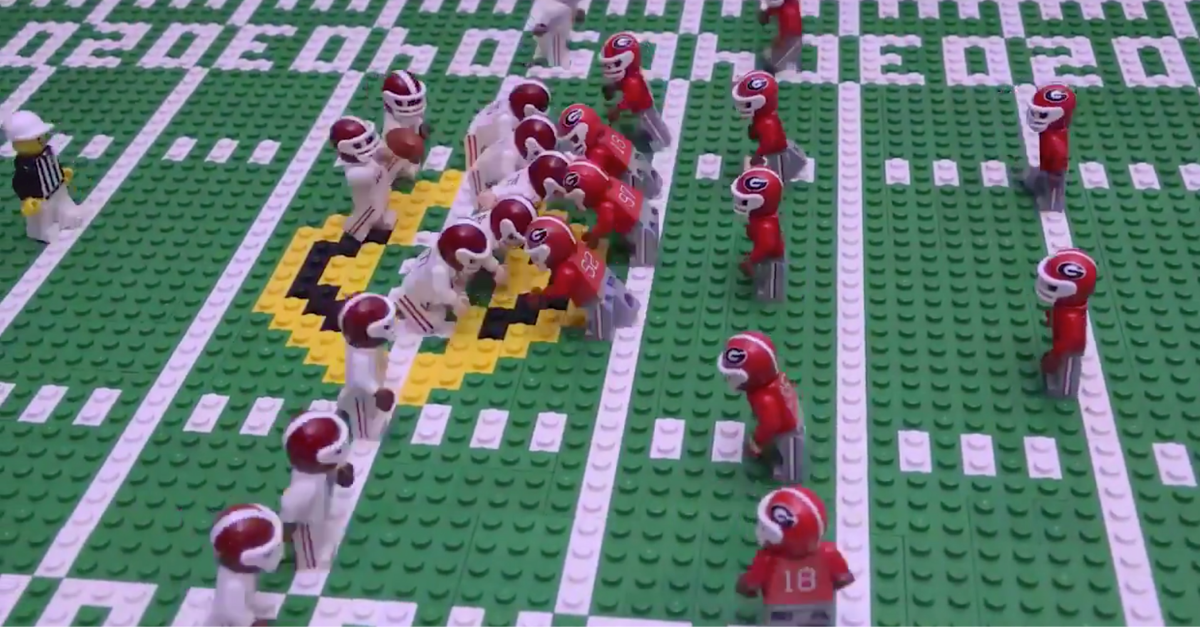 Twitter: goldyeller
Twitter: goldyeller
The Alabama Crimson Tide lined up against the Georgia Bulldogs facing a 2nd-and-26 in overtime of the College Football Playoff national championship game. Freshman quarterback Tua Tagovailoa took the snap, surveyed the Bulldogs' defense, and dropped a perfectly thrown ball to fellow freshman wide receiver DeVonta Smith for the game-winning touchdown.
The moment was cemented as one of the greatest in college football history, as two SEC powerhouses played one of the greatest title games in recent memory. The play will never be forgotten, and what better way to relive it again than with the help of one incredible artist and his bottomless set of Legos?
Jared Jacobs recreated the moment and tagged both Tua Tagovailoa and the Alabama football team on Twitter, which might be even better than the original play ever was.
This isn't even the best part. Jacobs recreates iconic moments in sports history with the help of Legos and some incredible stop-motion camera work.
Hey Auburn fans, anybody remember The Kick Six?
RELATED: These 9 Insane NBA Fines Would Take a Lifetime to Pay Off
What about J.R. Smith's ultimate blunder during Game 1 of the 2018 NBA Finals? During a tie game, Smith secured a missed free throw on the rebound, but rather than attempting a shot, he dribbled away from the basket and time expired, much to the chagrin of the now-departed Lego LeBron James…
How about legendary golfer Tiger Woods' impossible chip shot on the 16th hole at the 2005 Masters? This one is complete with Verne Lundquist's iconic call.
Anybody remember, arguably, the greatest play in college football history when the Cal Golden Bears defeated the Stanford Cardinal in what can only be remembered as "The Play?"
As you'd expect, the band WAS out on the field!
The list goes on and on, and for anyone interested in seeing more of his incredible work, check out Jared's awesome recreations on his Instagram account here.
When Alabama and Georgia meet in the 2018 SEC Championship game, I'm sure it'll be one for the ages, and maybe it'll even warrant a few more Lego highlights in the process.