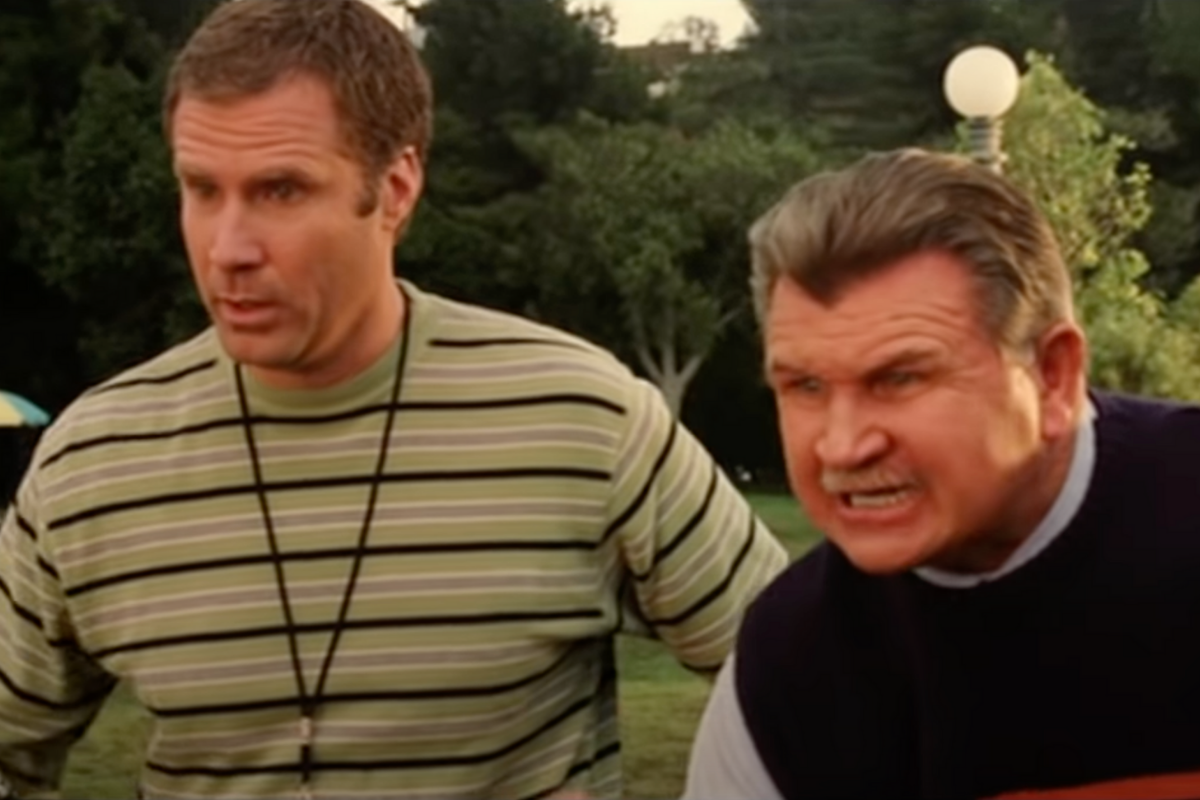 Screenshot from YouTube
Anyone who has played youth soccer has seen the sight.
Whether the league is U-10 or U-15, there is always at least one parent in the stands acting less mature than the children on the field.
It is a sad and hilarious sight, all too commonplace in youth sports. You know the stereotype — an over-caffeinated parental figure trying to make up for their own athletic inadequacies through the accomplishments of their offspring.
Nobody wants to be that guy (it usually is a guy), yet we all know somebody. Like it or not, those people are real; those people are true. And the funniest comedies are always a little true.
Will Ferrell starred in one such comedy called Kicking and Screaming. The family comedy is hardly the first film anyone thinks of when they think Will Ferrell.
The comedian is known for over-the-top caricatures of characters, like Mugatu, Frank the Tank, or Chazz Reinhold.
In the same year Wedding Crashers crashed into box offices, another comedy showed Ferrell's relatively down-to-earth-family-friendly side.
Kicking and Screaming is a full-blown family film, complete with a PG rating. The comedy stars Ferrell in possibly his most underrated role. But he's not the only underrated actor on screen.
Mike Ditka makes more than a cameo in the film — Da Coach is Da Fourth Actor on Da Call Sheet. Ditka's IMBD page had been growing for 15 years before he joined the comedy.
His performance in Kicking and Screaming is his best acting to date, not including this one commercial I love:
Ditka's performance alongside Ferrell is more than just a comical one-off. The former Chicago Bears coach is pivotal to the plot.
Kicking and Screaming Plot [SPOILER-FREE]
Kicking and Screaming is no The Mighty Ducks, but it is a great soccer movie for the whole family. The story is strictly formulaic, hitting all the Save the Cat plot points expected of a Hollywood screenwriter, sprinkled with memorable quotes.
Ferrell is the hero, Phil Weston. Phil, like all heroes, has a problem: a childish inability to step out of the shadow of his old man Buck Weston, played by the convincing Robert Duvall.
The friction between the father-and-son duo plays out on the youth soccer field, between two teams coached by the two men.
Buck Weston, from the outset, always makes grown man Phil seem like a little boy. (Buck Weston also has a younger son playing soccer named Bucky Weston.) Phil's soccer team can't beat Buck's rival team on the pitch, so Phil searches for help.
He acknowledges his dad's enemy as his friend and turns to Buck's aggressive neighbor for assistance. Buck is in constant competition with every male he meets, from his son to his famous neighbor. The only problem for Buck is that his neighbor is Chicago Bears legend: Mike Ditka.
Mike Ditka plays himself in the film. Nobody could do it better than Da Coach himself, and he does a fine job.
As an assistant coach in name only, Ditka turns the team around through tough love, coffee, and personnel changes. Ditka convinces Phil to bring a young pair of Italian ringers into the fold. The talented Europeans turn the season around, one soccer game at a time.
The Tigers (Phil's team) improve in a montage, ultimately turning their season around. Along the way, Phil loses his focus on having fun, falling wayward into the over-competitiveness that ruined his relationship with his father.
By the end of the story, Phil Weston has nearly destroyed his relationship with his son Sam.
Phil realizes the error of his ways and makes a typical movie speech about what he learned. His speech inspires the Tigers to have fun and believe in themselves. In the end, everyone wins, just the way we knew they would.
Typical Hollywood plotline. Very funny when you fill in the lines, which I won't do for you. Watch the movie if you're curious. This article isn't about the comedic nuances layered throughout Kicking and Screaming. This article is about Mike Ditka.
Mike Ditka's Role [SPOILERS]
RELATED: Mike Ditka Has His Own Wine Because He is a Badass
Ditka's role is a catalyst crucial to Phil's growth. For Phil to evolve, he needs a wise teacher to show him the ropes. That's what we see in the above clip.
The other thing we see is the start of the film's most successful running gag, the classic "stop smoking cigars in the house" bit.
Ditka shows up to practice, and the kids don't recognize him. At this point in the movie, we can see the Tigers are far from even being competitive. Ditka whips them into shape by running the youth futbol players through adult football drills as if they were the 1985 Chicago Bears.
Ditka, in classic Ditka fashion, is never seen without his Super Bowl ring. Da Coach's hard-knock style pays off. The Tigers finally score a goal in their next game, though they still lose the contest. Ditka hates losing and continues to help the team.
He introduces the mild-mannered Phil Weston to coffee, which Weston has never tried before. Phil immediately becomes hooked on caffeine. He flips the switch from alfalfa to alpha, suddenly over-focusing on victory at all costs.
When Ditka brings the Italian brothers Gian Piero and Massimo onto the team, the Tigers finally transform into a winning squad. That's when Phil goes overboard.
Referring to Ditka as "Juicebox Guy" is a joy on multiple levels.
Ditka a "Juicebox Guy"? That'll get you killed in Chicago.
You can tell both actors are so close to saying "Juice Box Bitch" that the words are practically on the tip of your tongue. They never do, though — it is a kid's movie, after all.
Ditka sort of is a Juicebox Guy in real life — he has his own line of wines.
The above clip marks Ditka's departure from the team and the remaining majority of the plot. He leaves when Phil Weston is out of control, having become everything he didn't want to become — his own father except less self-aware.
Phil pulls his head out of his ass eventually, but not before pissing off his wife and kid. Before it's too late, Phil re-finds his purpose, calms down, and allows the players to have fun.
The Tigers win the championship against Buck Weston and his Gladiators. Everything is as it should be, and Ditka returns to his role as the annoying neighbor.
"Listen, I mean no disrespect to you and your family… but my job in life is to make your dad's life a living hell. I gotta do it."
I love how Ditka's reduced to this over-competitive neighbor, solely existing to piss off Buck Weston. The concept is both very believable and completely unbelievable for one of the NFL's greatest coaches of all time.
Well, I suppose he can add another title to his already overflowing trophy case: best fictional youth league soccer coach in a Will Ferrell comedy.
Ditka's not the best actor, but he's better than most athletes on the silver screen. As illustrated by this story Will Ferrell tells in the next clip, Ditka is a hell of a lot tougher than most actors.
Some Behind-the-Scenes Fun [SPOILER-FREE]
Ouch! Even at his advanced age, Ditka is one Bad Bear. The script is heavily Chicago Bears focused and even set in Illinois, in some unnamed Chicago suburb.
Chicago-based writers Leo Benvenuti and Steve Rudnick penned the script. They're the same writing team behind another famous Chicago sports film titled Space Jam.
Welcome to the Space Jam, indeed. Kicking and Screaming is no Space Jam, but it is Ditka's best movie and full of hilarious movie quotes. The little league film is highly underrated.
Rotten Tomatoes gives the family comedy a rotten 41 percent, while Roger Ebert was a little more fair, giving the movie three stars out of five.
Kicking and Screaming isn't the funniest comedy ever, or even of 2005. It is, however, much more comical than remembered and Mike Ditka's most successful acting role.
For that alone, Kicking and Screaming is well worth a watch, especially for parents who take youth sports just a little bit too seriously.
Honorable unmentioned stars from the film: Josh Hutcherson (who later starred in The Hunger Games) as Bucky, Kate Walsh as Barbara Weston, Elliott Cho as Byong Sun, Rachael Harris as Ann Hogan, Dylan McLaughlin as Sam Weston, Steven Anthony Lawrence (Beans from Even Stevens) as Mark Avery, Musetta Vander as Janice Weston, and Jesse Dylan directing.
Kicking and Screaming was released in 2005 by Universal Pictures.