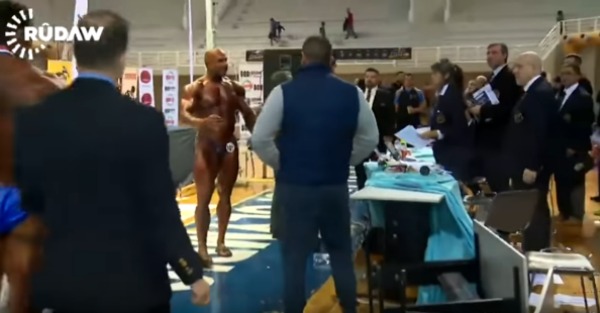 YouTube screen shot
A bodybuilder went on a violent rampage after finishing second in a competition in Athens, Greece, making it clear that judging figure skating would be a far better alternative.
The competitor's name is Giannis Magos, and after already winning the 100 kg (220 lb) weight class earlier, he looked to add the 2016 IFBB Diamond Cup title to his winnings. But when he didn't, steroid rage appeared to get the better of him and he knocked Judge Armando Marquez clean off his feet with a brutal slap to the face.
Unsurprisingly, onlookers were in no rush to quell the disturbance and Magos roamed around the scorer's table unchecked for a bit. Magos also reportedly flashed his genitalia at International Federation of Bodybuilding president Rafael Santonja while making a lewd comment.
RELATED: Yikes! Bodybuilder's shoulder erupts and starts leaking on stage
Just a suggestion, but given the inherent dangers in judging a bodybuilding competition, the judges might want to situate themselves far away from the action. Like maybe in a sky box somewhere behind lock and key.