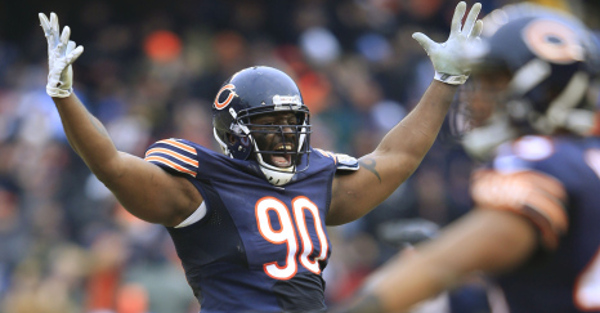 CHICAGO, IL - DECEMBER 21: Jeremiah Ratliff #90 of the Chicago Bears celebrates a blocked field goal during the fourth quarter of a game against the Detroit Lions at Soldier Field on December 21, 2014 in Chicago, Illinois. The Lions defeated the Bears 20-14. (Photo by Jamie Squire/Getty Images) *** Local Caption *** Jeremiah Ratliff
It looks like the very troubled Jeremiah Ratliff won't be in the NFL this season — if ever again.
No team has touched the 6-foot-four, 287 pound defensive tackle ever since police say he made threats directed at the Chicago Bears staff. He's turned 34, only played two games in 2015, so you have to wonder whether his time is up.
The Bears released Jeremiah Ratliff during last season, in November, prompting some serious reports that got law enforcement involved. According to Pro Football Talk, the team called police as a precaution because of how Ratliff left his angry exchange with General Manager Ryan Pace.
While the Bears have been mum on the situation, excerpts from the police report obtained by TMZ Sports show they had every right to get the police involved. According to Pro Football Talk:
According to the report, Ratliff said that he "felt like killing everybody in the building" before gathering his things and leaving the facility. He then returned later on Wednesday and told someone at the facility that "he wished staff members' children would die" and "I am the devil," which prompted team security director John Tarpey to call for police assistance.
Ratliff hasn't been formally charged with anything, but these reports are beyond alarming if true. It was the latest piece of trouble for Ratliff, who has served a three-game suspension for violating the NFL's substance abuse policy stemming from a DWI incident.
[h/t Pro Football Talk]