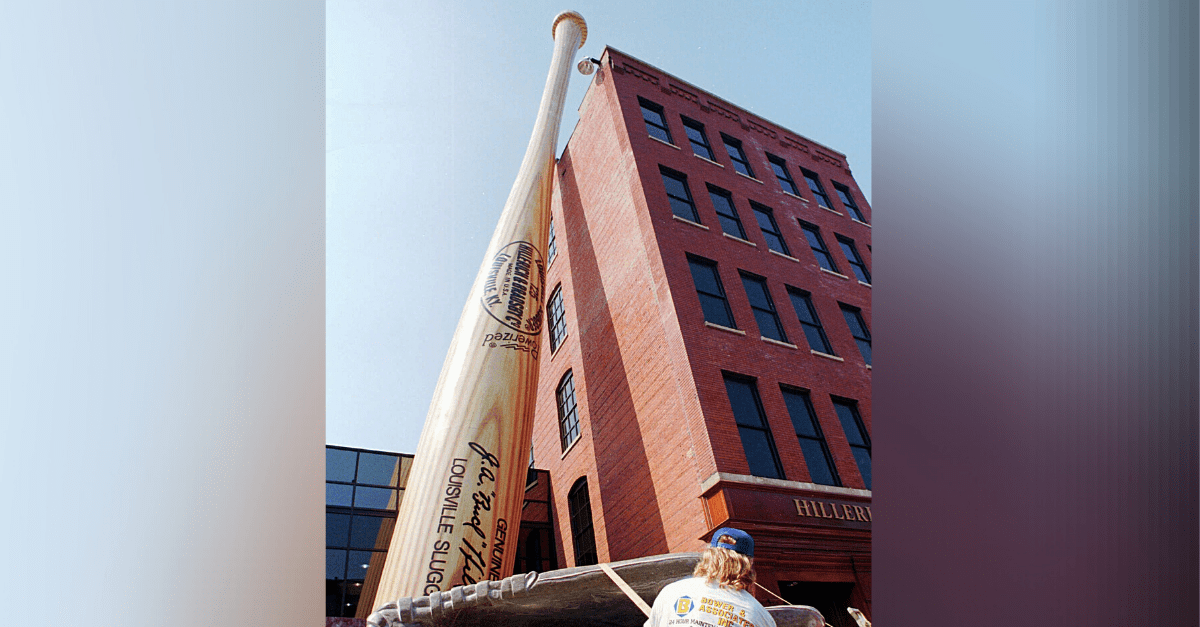 AP Photo/Tony Gutierrez
Nothing beats a summer road trip. Windows down, music loud, not a care in the world except what kind of snack you're grabbing at the next gas station. Thanks to 2020's coronavirus pandemic and the COVID-19 virus limiting our vacation choices, we thought it'd be prudent to find some ideal destinations your gaggle of sports-crazed family members can enjoy together.
Say what you will about the state of Major League Baseball, but there's no denying America's Pastime holds a special place in our hearts. If you're feeling froggy, you could visit every MLB stadium in America, but we found something better that towers 120 feet into the sky.
Say hello to the world's largest baseball bat.
World's Largest Baseball Bat: Louisville, Kentucky
Leaning against the Louisville Slugger Museum & Factory is an exact-scale replica of Babe Ruth's 34-inch Louisville Slugger bat that clubbed 714 home runs. The model R43 bat is made of hollowed out carbon steel and colored with the same paint used on battleships, according to Roadside America.
Even cooler? The bat doubles as ventilation for the museum's bathrooms.
Dimensions of World's Largest Bat
Height: 120 feet
Weight: 68,000 pounds (34 tons)
Material: Carbon steel
You probably have a Louisville Slugger baseball bat sitting in your garage. America's most famous bat manufacturer produced its first bat for Pete "The Louisville Slugger" Browning in 1884. The company trademarked the name in 1894, Pittsburgh Pirates legend Honus Wagner was its first professional endorser, and the company's success skyrocketed.
After expanding its production to Indiana in 1974, the Hillerich & Bradsby Company opened its famous downtown Louisville museum two decades later at 800 West Main Street, bringing production back home where it remains today.
RELATED: Check Out Bo Jackson Breaking Baseball Bats Like Toothpicks
The museum features interactive exhibits, famous bats from baseball's Hall-of-Fame icons, and even a 17-ton sculpture known as The Big Glove ? It's carved from 450-million-year-old Kentucky limestone and looks like the best Instagram photo opportunity on the market.
Nothing, though, compares to the museum and bat factory's crown jewel attraction.
If one giant baseball bat world record wasn't enough, how about a 20-foot-wide baseball?
The World's Largest Baseball
The 2017 MLB All-Star FanFest in Miami, Florida, featured a baseball measuring 12 feet in diameter. According to the South Florida Sun Sentinel, the ball was certified as the Guinness World Record.
However, an unofficial world record resides in Muscotah, Kansas. Using an old water tower tank and stitches made from rebar, this 20-foot tall baseball was constructed in 2013 to honor National Baseball Hall of Fame inductee Joe Tinker, who hailed from Muscotah and won back-to-back World Series titles with the Chicago Cubs in 1907 and 1908.
According to Jeff and C.J. Hanson, the couple who constructed the behemoth, Guinness won't verify their baseball as the world record because it's a replica, not a real baseball.
That's rubbish. Muscotah officially has the world record, per me.
I don't know about you, but an old-fashioned American road trip to see these roadside attractions sounds like the perfect way to spend summer weeks without baseball.