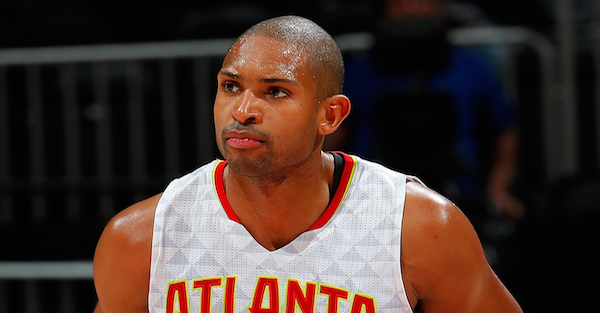 ATLANTA, GA - NOVEMBER 18: Al Horford #15 of the Atlanta Hawks against the Sacramento Kings at Philips Arena on November 18, 2015 in Atlanta, Georgia. NOTE TO USER User expressly acknowledges and agrees that, by downloading and or using this photograph, user is consenting to the terms and conditions of the Getty Images License Agreement. (Photo by Kevin C. Cox/Getty Images)
As the trade deadline nears, speculation on stars flipping spots continues to push forward.
With 6'10" center Al Horford not certain to be on the market just yet, CSNNE's Sherrod Blakely reports if the two-way big man does get flipped, the Boston Celtics are the frontrunners to land him.
Horford is a shooting big that is mobile in the pick-and-roll and can occasionally extend his range beyond the arc. He's a strong defender and would be a perfect fit in Brad Stevens' uptempo scheme.
The only real questions is what the Celtics would give up. Paired with plenty of young assets and draft picks (namely the 2016 and 2018 unprotected Brooklyn Nets picks), Boston has the tools to make such a trade happen. Whether the Celtics pull the trigger or not remains to be seen.
For more NBA action you can listen to the AIr B. and B. podcast right here!