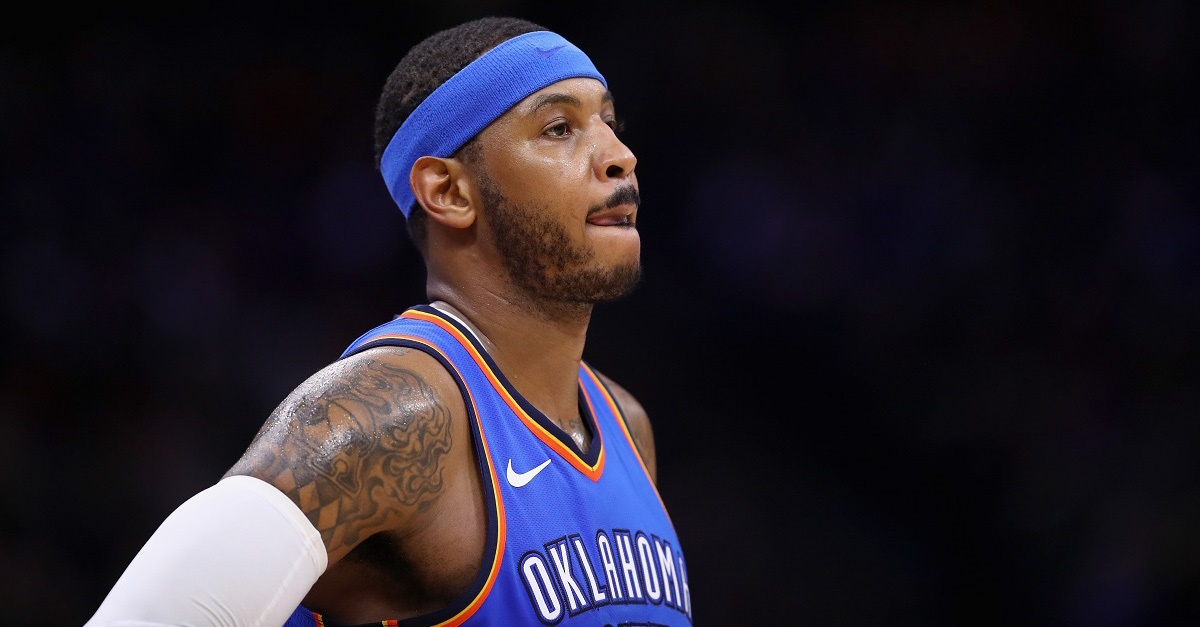 Ezra Shaw/Getty Images
SACRAMENTO, CA - NOVEMBER 07: Carmelo Anthony #7 of the Oklahoma City Thunder stands on the court during their game against the Sacramento Kings at Golden 1 Center on November 7, 2017 in Sacramento, California. NOTE TO USER: User expressly acknowledges and agrees that, by downloading and or using this photograph, User is consenting to the terms and conditions of the Getty Images License Agreement. (Photo by Ezra Shaw/Getty Images)
As Carmelo Anthony was bracing for a trade from the New York Knicks last summer, he believed he would be traded to the Houston Rockets, according to Ian Begley of ESPN.
Of course, Anthony was eventually traded to the Oklahoma City Thunder where he joined All-Star players Russell Westbrook and Paul George. According to the report, Anthony thought he would be traded to the Rockets in early July and had even entertained the idea of playing with Chris Paul and, eventually, LeBron James.
From ESPN:
[Anthony] went as far as to detail individual matchups between that hypothetical Rockets team and the Warriors, surmising that he and the Rockets could take out the Warriors. For most of the offseason, Anthony was confident that the Knicks and Rockets would get a deal together.

One potential trade involving the Bucks as a third team, with Jabari Parker headed to New York, was discussed. The Lakers and Trail Blazers, among other teams, had interest in dealing for Anthony. But ultimately, nothing came to fruition.
The Rockets were reportedly among the teams that Anthony would waive his no-trade clause for last summer when the Knicks were discussing trade possibilities for Anthony. The trade between the Rockets and Knicks reportedly fell through because the Knicks demanded Eric Gordon and Trevor Ariza from the Rockets and the Rockets rejected that idea.
While imagining a scenario in which Anthony joined Paul and James Harden in Houston would certainly be an interesting one, it remains to be seen if that team would have been successful. We've seen this season the Thunder's trio of All-Stars return inconsistent results thus far as the Thunder are currently just 16-15 and in sixth place in the Western Conference.
Perhaps the Rockets not acquiring Anthony turned out for the best as they're 25-5 this season and in first place in the West.