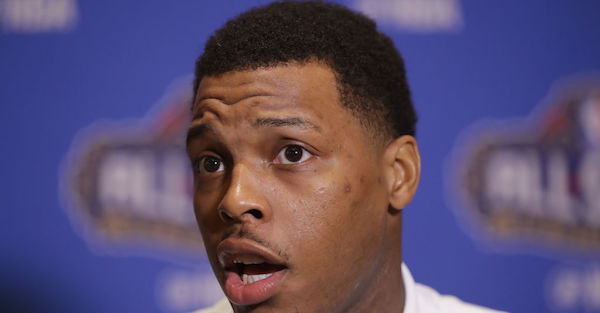 Ronald Martinez/Getty Images
NEW ORLEANS, LA - FEBRUARY 17: Kyle Lowry #7 of the Toronto Raptors speaks with the media during media availability for the 2017 NBA All-Star Game at The Ritz-Carlton New Orleans on February 17, 2017 in New Orleans, Louisiana. (Photo by Ronald Martinez/Getty Images)
Kyle Lowry will be one of the most sought after players in the 2017 NBA free agency class, and he has already taken a meeting with the Toronto Raptors.
Lowry has been a member of the Raptors since 2012, and he is opting out of the final year of a 4-year, $48 million deal with the franchise. He will officially become a free agent on July 1.
Related: ESPN analyst forgets key guard in his ?elite point guards? graphic
Lowry met with Raptors coach Dwane Casey and teammates DeMar DeRozan and Norman Powell in the Bay Area this week, according to ESPN.
Lowry is expected to receive a massive increase in pay this offseason. The Raptors are the favorites to re-sign him, but he will have plenty of suitors including the San Antonio Spurs and the Philadelphia 76ers.
The Raptors were eliminated from the playoffs by the Cleveland Cavaliers for the second consecutive year. Lowry averaged a career-high 22.4 points per game this season, but he only averaged 15 points per game in the playoffs.
Lowry has made the All-Star Game in the last three seasons, and he was a member of Team USA in the 2016 Olympics.
(h/t ESPN)