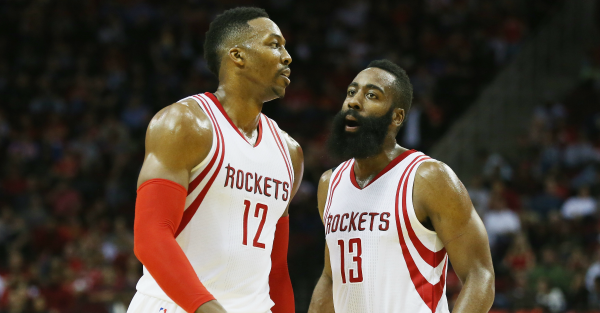 Houston Rockets center Dwight Howard has been reported as saying that he doesn't like playing second fiddle to guard James Harden, but has denied that report on several occasions. However, Fran Blinebury of NBA.com has evidence that Howard was unhappy at least once with his pecking order in the Rockets' lineup.
"Howard and Harden have been an oil-and-water mix since they came together for the 2012-13 season. It was only days after Damian Lillard's 3-point dagger eliminated them in the first round of their first playoff series together when both were sending out messages and maneuvering to get the other one traded.

Harden is a difficult teammate to play with, dominating the ball and so much of every shot clock and Howard too often felt ignored."
That might have been a few years ago now, but those feelings might find themselves bubbling up again and could cause the Rockets to pull the trigger on a Howard in hopes of getting something in return since he is unlikely to re-sign with them. Obviously there wasn't a whole lot of this talk when the Rockets went on that great run to the Western Conference Finals, but with the team struggling and clear disjointedness among the team it might be time for someone to go.
And you can hear more about the NBA on the Air B. and B. podcast right here!