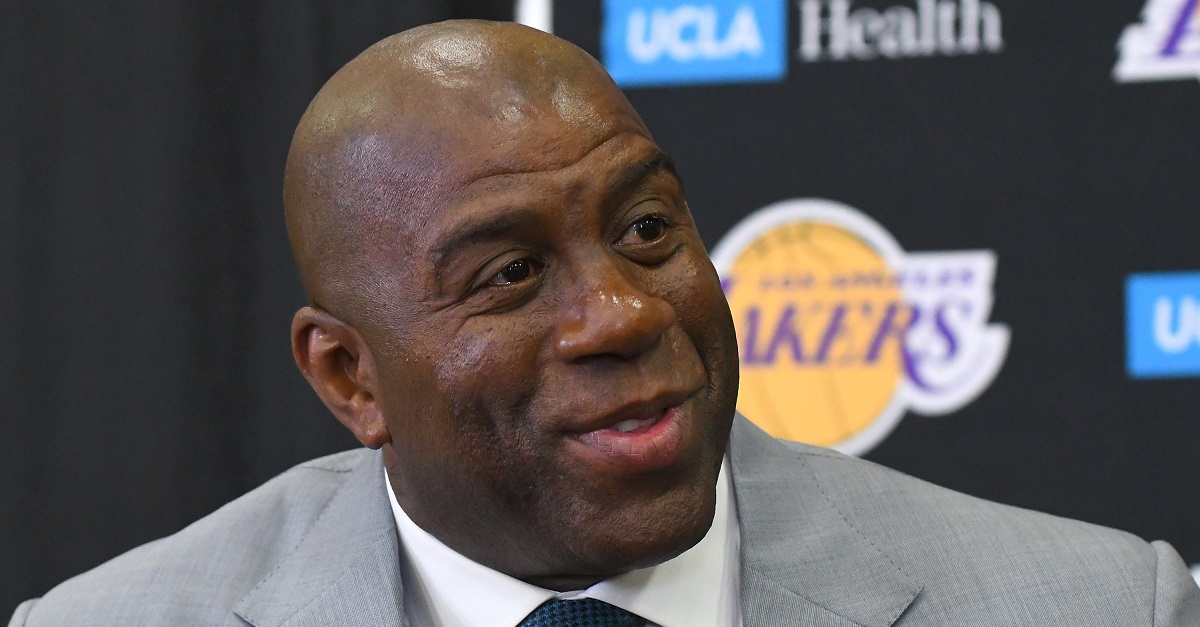 Jayne Kamin-Oncea/Getty Images
LOS ANGELES, CA - JUNE 23: Magic Johnson, president of basketball operations of the Los Angeles Lakers talks to the media during a press conference on June 23, 2017 at the team training faculity in Los Angeles, California. (Photo by Jayne Kamin-Oncea/Getty Images)
Longtime NBA reporter Peter Vescey is 100 percent confident LeBron James will be a Los Angeles Laker next season.
Vescey discussed LeBron going to LA in a recent column on Patreon, and he even said James would've been a Laker last offseason had the franchise been closer to competing.
"Accordingly, I'm publicly terminating the pandemic of speculation surrounding LeBron James' playing plans past this season," Vescey wrote. "For months, many in the media declared or composed presumption the Lakers would be the beneficiaries of his talents when he became a free agent July 1, 2018.

"I'm eradicating all conjecture and uncertainty! I'm comfortable now in stating unequivocally, LeBron will leave the Cavaliers a second time and join the Lakers, and return the team to LA Lore status."
Related: Kyrie Irving had an ice-cold response when asked if he talked to LeBron James ahead of trade request
LeBron and his wife were looking into private schools in Los Angeles last week, though LeBron said he was there to shoot commercials and train.
In addition to LeBron, the Lakers have also been linked to Paul George. And if Russell Westbrook doesn't sign an extension with the Oklahoma City Thunder, he could be headed to LA as well according to ESPN's Ramona Shelburne.
That means the Lakers could go from one of the worst rosters in the NBA to possibly having LeBron James, Russell Westbrook, Paul George, Lonzo Ball and Brandon Ingram for the 2018-19 season.
Over the last four years, the Lakers have won 27, 21, 17 and 26 games. That's by far the worst stretch in franchise history. If LeBron, George and Westbrook decide to sign in L.A. next year, they would automatically make the Lakers a contender.
The 2017 NBA season should be very entertaining, but the 2018 offseason might have even more fireworks.
(h/t The Big Lead)