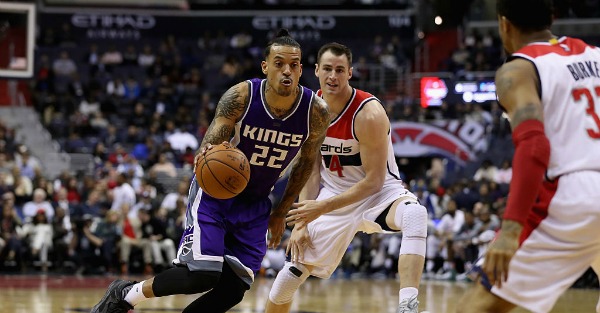 Rob Carr/Getty Images
at Verizon Center on November 28, 2016 in Washington, DC. NOTE TO USER: User expressly acknowledges and agrees that, by downloading and or using this photograph, User is consenting to the terms and conditions of the Getty Images License Agreement.
Matt Barnes is being sought by police for questioning following a violent incident in a New York City nightclub over the weekend.
According to a TMZ report, NYPD officers were dispatched to Manhattan's Avenue Nightclub early Monday morning after a 911 call of a man assaulting two women and another man during an argument.
Police said Barnes allegedly choked a woman and scuffled with two people who tried to intervene. Barnes and Kings teammate DeMarcus Cousins, who he was partying with at the time, were not at the scene when they arrived, authorities said.
Barnes denied instigating the brawl and insists that he was merely defending himself when a woman he accidentally bumped into in the club's VIP section slapped him in the face. Barnes said several people, including a few men, got involved in the altercation.
Barnes added that he ended up on the ground with a man on top of him trying to choke him. Barnes's attorney, Alex Spiro, also suggested that Barnes was not the aggressor.
"We do not believe that a crime was committed and are hopeful no charges will be pressed," Spiro said. "We are cooperating fully with attorneys."
However, according to USA Today, footage of the incident being reviewed by authorities appears to show Barnes as having started the melee.
Barnes posted a message to his Instagram account Monday proclaiming his innocence.
https://www.instagram.com/p/BNpVx6ZjcQm/
The Kings were in New York for their matchup with the Knicks Sunday in a game that saw them lose their third straight and Barnes get ridiculed by Knicks fans who chanted "Derek Fisher," a reference to the former Knicks coach who reportedly had an affair with Barnes' estranged wife.
It was Barnes' third brush with the law. In 2010, he was arrested on domestic violence charges that were later dropped when the victim, ex-wife Gloria Govan, denied that Barnes ever abused her.
Then in 2012, Barnes was charged with resisting arrest and misdemeanor traffic charges, for which he ultimately served two years probation.