The National Basketball Association is an exclusive club.
It's got everything: high-level basketball, some of the globe's best athletes, world-class arenas, $12 beers, fun guys, flat-Earth guys, guys who shed an extra layer after moving to an up-and coming area, mascots passing out from being so dedicated to their craft.
Only 30 members have access to these benefits. It didn't always used to be that way.
The NBA has expanded from 11 to 30 teams in its existence, and that number could potentially grow in the coming years.
NBA Expansion History
Several franchises have come and gone, moved and changed names. The cornerstones that have been around in one form or another since the league's earliest days are the Boston Celtics, New York Knicks, Philadelphia Warriors (now the Golden State Warriors), Minneapolis Lakers (now the Los Angeles Lakers), Tri-Cities Blackhawks (now the Atlanta Hawks), Fort Wayne Pistons (now the Detroit Pistons), Syracuse Nationals (now the Philadelphia 76ers) and Rochester Royals (now the Sacramento Kings).
Here is the admittance timeline of the additional franchises:
1961: Chicago Packers (now Washington Wizards)
1966: Chicago Bulls
1967: San Diego Rockets (now Houston Rockets), Seattle SuperSonics (now Oklahoma City Thunder)
1968: Milwaukee Bucks and Phoenix Suns
1970: Buffalo Braves (now the Los Angeles Clippers), Cleveland Cavaliers and Portland Trail Blazers
1974: New Orleans Jazz (now Utah Jazz)
1980: Dallas Mavericks
1988: Charlotte Hornets (now New Orleans Pelicans), Miami Heat
1989: Minnesota Timberwolves and Orlando Magic
1995: Toronto Raptors and Vancouver Grizzlies (now Memphis Grizzlies)
2004: Charlotte Bobcats (now Charlotte Hornets)
Following the NBA and American Basketball Association (ABA) merger in 1976, the Denver Nuggets, Indiana Pacers, New York Nets (now Brooklyn Nets) and San Antonio Spurs joined.
10 Possible NBA Expansion Cities
RELATED: Adam Silver's Net Worth Proves Leading the NBA Pays Handsomely
Due to the financial impact of the coronavirus pandemic and COVID-19 outbreak in 2020, the league began considering expansion more seriously than in recent years.
NBA commissioner Adam Silver explained:
"I'd say it's caused us to maybe dust off some of the analyses on the economic and competitive impacts of expansion. We've been putting a little bit more time into it than we were pre-pandemic. But certainly not to the point that expansion is on the front burner."
A new franchise would require a billionaire owner to front somewhere between a $1 billion and $1.5 billion expansion fee, which is the average value of an existing franchise. That cash would be evenly distributed among the 30 current owners. That's part of the problem for some cities: do they even have a billionaire that could pay that expansion fee?
Recently rumors have swirled about the NBA having interest in expanding to two cities: Las Vegas and Seattle. Seattle wouldn't exactly be a "new" city, because the Supersonics called the city home from 1867-2008 before the team became the Oklahoma City Thunder. Meanwhile, Las Vegas has never had an NBA team, but the interest and success of the NHL's Las Vegas Golden Knights make Sin City an obvious choice.
However, in June 2022, Silver shot down those rumors. He also mentioned that Las Vegas was a great pro sports market.
"We are not discussing that at this time," Silver said. "As I've said before, at some point, this league will invariably expand, just not at this moment."
NBA Commissioner Adam Silver shoots down the latest NBA expansion rumors which include Las Vegas and Seattle as possible destinations. He further spoke about LV: ?Las Vegas has shown itself to be a great pro sports market.?#vegas #nba #NBAFinals ? @nba pic.twitter.com/B2Whh3qOfo

— Mick Akers (@mickakers) June 3, 2022
Silver spoke to Shaquille O'Neal at the 2023 NBA Finals between the Denver Nuggets and Miami Heat, telling him that once the NBA finalizes its media right deal in 2024, the league can focus on expansion.
Here are the cities that make the most sense.
Seattle, Washington
Seattle is the most obvious choice. The city was the home of the SuperSonics until the franchise relocated to Oklahoma City in 2008. It has topped lists whenever relocation has been discussed, such as when the Sacramento Kings were up for sale in 2013.
The Sonics previously played at KeyArena — now remodeled as Climate Pledge Arena. The Seattle Kraken — the newest NHL expansion team — play home games there. An NBA team could share the space. I'm sure Seattle, and most NBA fans, would welcome the idea. There's a reason this one was part of those rumors.
Louisville, Kentucky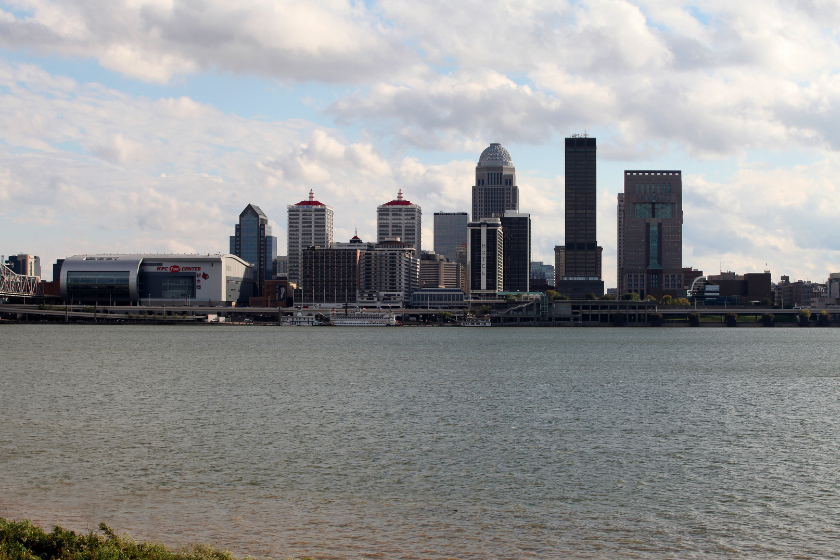 Louisville is in the heart of Bluegrass basketball country. It was considered when the Grizzlies relocated from Vancouver to Memphis and when the 30th franchise — which landed in Charlotte — was being discussed.
The city could host games at the 22,090-capacity KFC Yum! Center, the home of the Louisville Cardinals.
Las Vegas, Nevada
Vegas already has an established relationship with the league by hosting the Summer League. Sin City has welcomed new major sports teams in recent years with the NHL's Vegas Golden Knights, the NFL's Las Vegas Raiders and the WNBA's Las Vegas Aces. A new NBA team could share T-Mobile Arena with the Knights. Of all the cities on this list, Las Vegas is the most likely to actually land a franchise.
I propose they name the team the Las Vegas 48 Hours and Eddie Murphy and Nick Nolte are the official spokespeople.
Montreal, Quebec, Canada
Montreal is an untapped market, but expanding further into Canada is tough. Vancouver's six-year run is proof of the extra difficulty in running an international franchise. Many players dreaded the idea of going there.
St. Louis, Missouri
St. Louis has proven itself as a pro sports town with the MLB's St. Louis Cardinals and NHL's St. Louis Blues' fan bases. That being said, a new franchise could bring more buzz elsewhere because of the strong influence of already existing teams.
Mexico City, Mexico
The NBA has played several regular season NBA games in Mexico's capital and established a G-League team there in 2019. As mentioned with Canadian teams, adding international franchises pushes the brand beyond the borders of the United States but comes with downsides.
Additionally, Mexico City is an island in relation to other NBA cities.
Nashville, Tennessee
Nashville is in the same category as St. Louis. Great city with already established professional teams. Plus, Memphis is only a few hours away.
Kansas City, Missouri
There's an empty spot on the NBA map between Oklahoma City and Minneapolis. Kansas City could occupy that real estate.
KC has hosted an NBA team in the past and has the T-Mobile Center in the heart of downtown.
Virginia Beach, Virginia
There was a proposal to bring a franchise to Virginia Beach in 2017. The team would have to start completely from scratch and build a new arena that guarantees revenue. Probably the least likely candidate to actually get a team.
Tampa, Florida
Tampa hosted the Toronto Raptors for the 2020-21 season. The temporary stay was a trial run for a permanent NBA franchise; similar to when Oklahoma City hosted the New Orleans Hornets following Hurricane Katrina.
Other Cities That Are Options
Pittsburgh, Pennsylvania
San Diego, California
Want More Sports News?
Get the biggest and best sports news sent directly to your inbox.