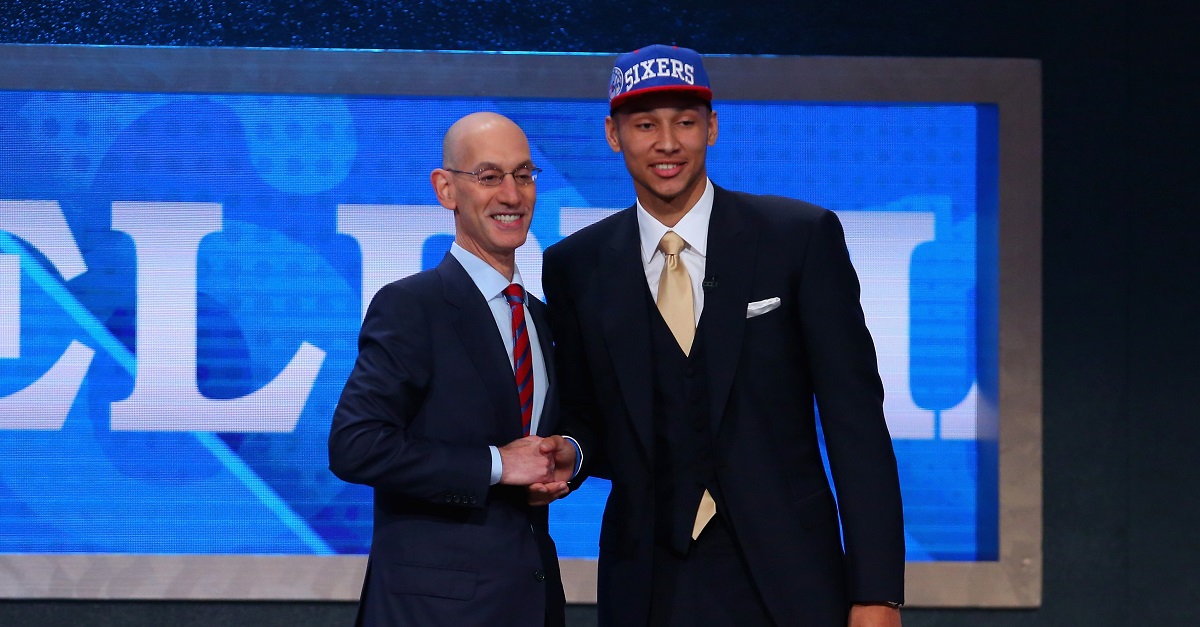 Mike Stobe/Getty Images
NEW YORK, NY - JUNE 23: Ben Simmons poses with Commissioner Adam Silver after being drafted first overall by the Philadelphia 76ers in the first round of the 2016 NBA Draft at the Barclays Center on June 23, 2016 in the Brooklyn borough of New York City. NOTE TO USER: User expressly acknowledges and agrees that, by downloading and or using this photograph, User is consenting to the terms and conditions of the Getty Images License Agreement. (Photo by Mike Stobe/Getty Images)
The NBA appears to be moving forward with talks in ending the controversial 'one-and-done' rule, according to Adrian Wojnarowski of ESPN.
NBA commissioner Adam Silver and NBPA executive director Michele Roberts met on Thursday with the new Commission on College Basketball to discuss various issues facing the basketball industry, including how potential changes could impact the NBA draft.
The rules mandated by the NBA currently state that players must be at least one year removed from high school before entering the NBA draft. The rule has become quite controversial in recent years as many believe players should have the option to enter the draft directly out of high school rather than being required to attend college or play overseas for one year.
There is a growing sense that Silver is looking to end the 'one-and-done' rule to allow players to enter the draft out of high school, according to the report. Players leaving high school could then have the option to enter the draft or if they decided to attend college, they'd be required to do so for a minimum of two years. A rule like that would be similar to college baseball, where a player can be drafted out of high school, or opt to attend college for at least three years before being drafted again.
A change like this would require approval from the league and the players' association, and is reportedly being discussed.
Many college coaches and players have voiced their displeasure with the 'one-and-done' rule. Duke head coach Mike Krzyzewski has long been a proponent of ending this rule and said last month in an interview that he believes players should be able to enter the draft at any time and should be able to stay in college for as long as they want.
It seems as though the change that is reportedly being discussed would be the best result for both sides involved. Players would be able to enter the draft out of high school or would stay in college for at least two seasons. The system in place doesn't seem to be working for college basketball and this new proposal appears to be a good solution.