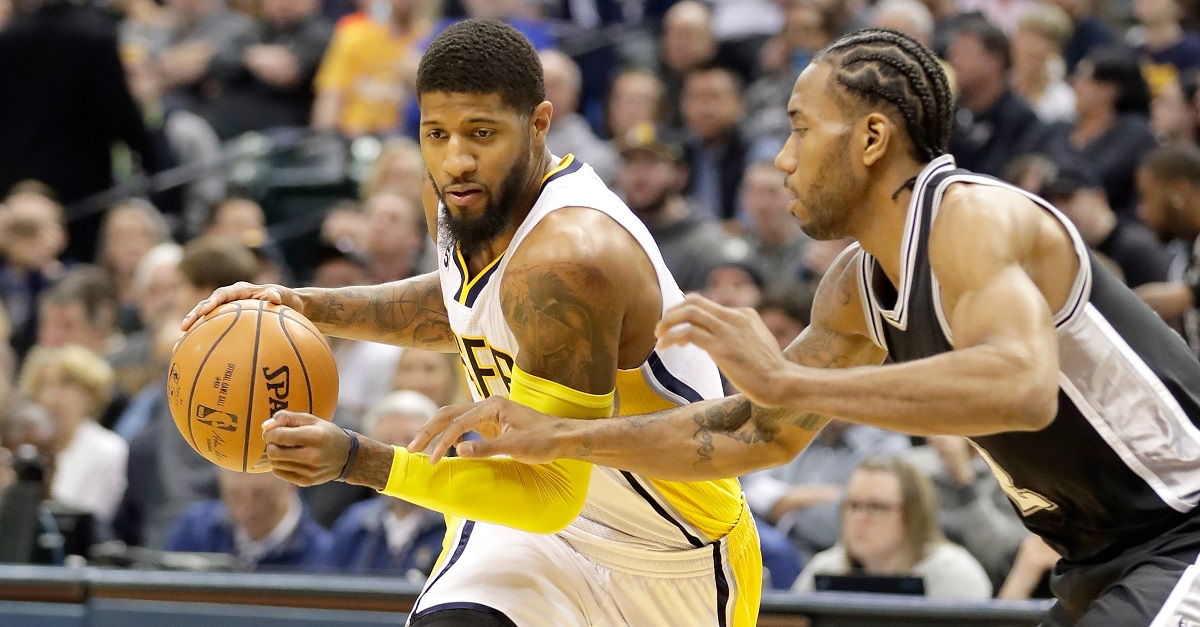 Andy Lyons/Getty Images
INDIANAPOLIS, IN - FEBRUARY 13: Paul George #13 of the Indiana Pacers dribbles the ball against the San Antonio Spurs at Bankers Life Fieldhouse on February 13, 2017 in Indianapolis, Indiana. NOTE TO USER: User expressly acknowledges and agrees that, by downloading and or using this photograph, User is consenting to the terms and conditions of the Getty Images License Agreement (Photo by Andy Lyons/Getty Images)
This year's NBA Trade Deadline was not one of the more active or exciting ones, but there were plenty of rumors about some superstars heading out of town. One of those include Indiana Pacers forward Paul George who had made it clear early in the day that he either wanted to stick it out with Indy and compete for titles or go to the Lakers.
RELATED: Report: Indiana Pacers working trade deadline on two Paul George fronts
So when the Denver Nuggets came knocking they really needed to blow away Larry Bird and the rest of the Pacers front office in order to land the four-time NBA All-Star. Apparently they came out swinging according to ESPN's Marc Stein:
However, since his current contract is up in 2018, the Nuggets would have only had him for a year as he made it clear that he would leave for other pastures after next season:
The Nuggets would have likely had to give up Nikola Jokic in the trade, but it was reported that the Nuggets would absolutely not let him go and there was some talks of throwing in draft picks with emerging shooter Jamal Murray to send to Indiana. Alas, the deadline has passed and that trade definitely won't be happening.