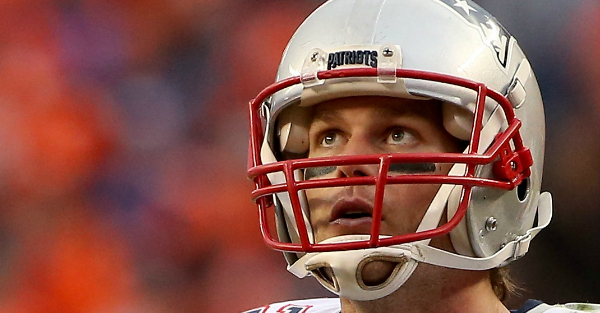 Doug Pensinger/Getty Images
in the AFC Championship game at Sports Authority Field at Mile High on January 24, 2016 in Denver, Colorado.
It was a bit of a slap in the face. And as Isaiah Thomas noted in his letter on The Players Tribune, when the Boston Celtics decided to ship him off to Cleveland in order to land Kyrie Irving, "it stung a little."
After all, Thomas had poured his heart and soul into the Celtics and was hoping on setting up shop in Boston. He was planning on spending the rest of his career there, and suddenly, out of nowhere, he's a Cavalier.
Thomas wanted to enjoy a fruitful career in Boston — much like Tom Brady.
And the now former Celtics point guard revealed in his letter that Brady texted him following the trade and offered some kind words.
"What's up, IT, I heard about the news. You good?" Brady asked, starting off the conversation. 

"I'm alright. I mean, it's crazy. It's a cold game," Thomas replied. 

"Yes it is. Best of luck. You're gonna do great. Keep in touch," Brady said. 
Indeed. It is a cold, cold game. But it is that way because basketball — well, sports in general — is a business first and a game second.
Nowadays, for a player to spend his whole career (or even a large portion of it) in one city, all the stars have to align.
It worked out for Brady. Drew Bledsoe went down, and Brady never gave the reins of the offense back. He took the New England Patriots to new heights.
But for Thomas, things went a little differently. However, he'll surely always think about how life would have been if he had stayed in Boston.
[h/t Sports Illustrated]