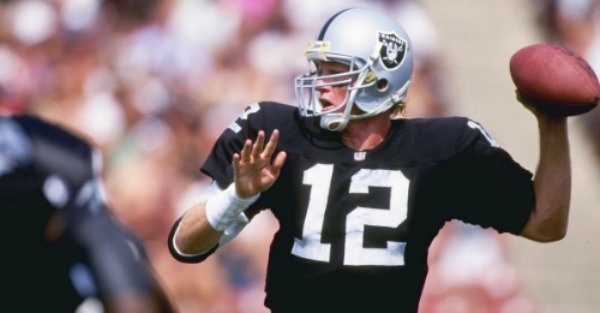 Raider Report via Twitter
Todd Marinovich, the former Oakland Raiders quarterback, pleaded guilty to public nudity, drug and trespassing charges stemming from an incident last year in Irvine, Ca.
Marinovich, now 47, was sentenced to 90 days in jail, but  he could avoid serving time if he completes six months in an outpatient facility, according to  the Orange County Register. He was also sentenced to three years probabtion.
Marinovich, who played his college ball at USC, has battled drug problems throughout his life, but TMZ reported he's been clean for eight months.
Police say Marinovich tried to enter a stranger's home naked.
Marinovich first caught the public's attention as a high school quarterback at national power Mater Dei in the 1980's. His father trained him with a military-style regimen which led to a California magazine cover article entitled: "ROBO QB: THE MAKING OF A PERFECT ATHLETE." The article earned Marinovich national media exposure as well as the nickname Robo Quarterback. He went on to play at USC and ultimately became a Heisman Trophy candidate in 1990.
Marinovich's fall from grace began soon after he was selected by the Los Angeles Raiders in the first round of the 1991 NFL Draft. After failing his third league drug test in 1993, he was suspended for the entire 1993 season and subsequently released by the Raiders.
He did two stints in the Canadian Football League, first with the Winnipeg Blue Bombers in 1993, and then with the BC Lions in 1999. Marinovich's football days ended in 2000 when he was cut from the Los Angeles Avengers of the Arena Football League for possession of heroin.