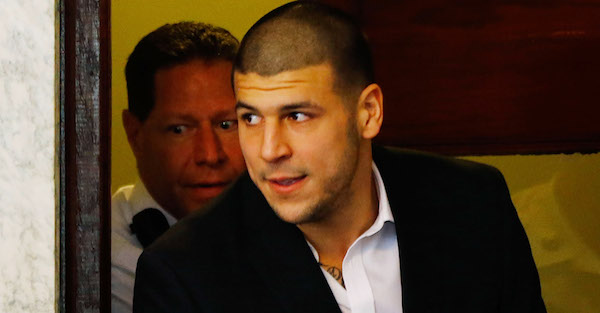 Jared Wickerham/Getty Images
NORTH ATTLEBORO, MA - AUGUST 22: Aaron Hernandez is escorted into the courtroom of the Attleboro District Court for his hearing on August 22, 2013 in North Attleboro, Massachusetts. Former New England Patriot Aaron Hernandez has been indicted on a first-degree murder charge for the death of Odin Lloyd. (Photo by Jared Wickerham/Getty Images)
It looks like the Aaron Hernandez case is far from over.
According to NBC Sports, prosecutors from the case are now appealing a judge's decision to overturn Hernandez's murder conviction. The decision was initially overturned after Hernandez committed suicide, as Massachusetts law mandates that a defendant must be able to exhaust all of their appeals.
Prosecutors are arguing that Hernandez purposely manipulated the process, allowing for the conviction to be throw out after his suicide. From Pro Football Talk:
?A defendant who commits suicide should not be able to manipulate the outcome of his post-conviction proceedings to achieve in death what he would not be able to achieve in life,? [Attorney Thomas] Quinn said, via the Associated Press.
Because Hernandez's conviction was legally abated after his suicide, Hernandez's estate could now be entitled to money that was withheld by the New England Patriots and the NFL following his arrest and conviction. That money could prove to be worth more than $6 million.
Lawmakers in Massachusetts are already trying to change the system to prevent this type of legal manipulation in the future.
Hernandez committed suicide just a week after he had been found not guilty of the murders of Daniel de Abreu and Safiro Furtado. Hernandez was still serving a life sentence for the 2013 murder of Odin Lloyd, but Hernandez?s legal team was preparing to appeal that decision after the not-guilty verdict in the double-murder case.
Hernandez was drafted in 2010 by the New England Patriots after a standout career as a tight end at the University of Florida. His NFL career came to a stunning end in June of 2013 when he was arrested for the murder of Lloyd after a short investigation.