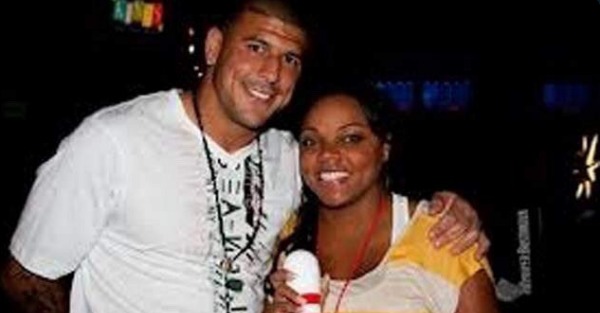 Twitter/Every Day Life
Following the death of Aaron Hernandez, Shayanna Jenkins-Hernandez — the former football player's fiancee — has been speaking out on many topics about Hernandez in a two-part interview on the Dr. Phil television program.
One of the rumors that Jenkins-Hernandez addressed was over Hernandez's sexuality, as rumors ran rampant following Hernandez's death about an alleged prison relationship with Kyle Kennedy, another inmate serving with Hernandez in Souza-Baranowski Correction Center in Massachusetts.
?I had no indication or any feeling that he was [gay],? Jenkins-Hernandez said on Dr. Phil video released on Tuesday. ?He was very much a man to me. I don?t know where this came from. It?s embarrassing, in a sense. It?s hurtful, regardless if it?s true or not. It?s just not something that I saw, it?s not something that I believe. It?s just not him.?
All of the controversy comes after Hernandez was found dead in his prison cell back in April in what was ruled a suicide. Hernandez committed suicide just a week after he had been found not guilty of the murders of Daniel de Abreu and Safiro Furtado. Hernandez was still serving a life sentence for the 2013 murder of Odin Lloyd, but Hernandez's legal team was preparing to appeal that decision after the not-guilty verdict in the double-murder case.
Hernandez was drafted in 2010 by the New England Patriots after a standout career as a tight end at the University of Florida. His NFL career came to a stunning end in June of 2013 when he was arrested for the murder of Lloyd after a short investigation.
More from the Aaron Hernandez saga
A new report shows Aaron Hernandez joined some vicious, violent company while he was in prison
More bloody details emerge from the Aaron Hernandez suicide
After his death, Massachusetts Appeals Court could make stunning announcement on Aaron Hernandez
Aaron Hernandez allegedly told an NFL reporter he'd kill him
More details emerge in the evolving battle over Aaron Hernandez's money
Jury forewoman in Aaron Hernandez trial makes an explosive statement about the verdict
Report adds a new layer to the potential motive in an Aaron Hernandez murder
Judge makes decision on the suicide notes left behind by Aaron Hernandez