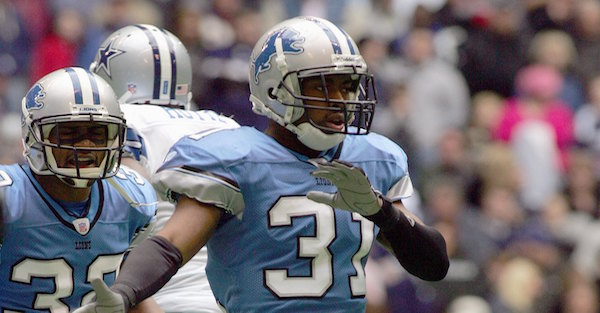 IRVING, TX - DECEMBER 31: Stanley Wilson #31 of the Detroit Lions celebrates on the field during the game against the Dallas Cowboys at Texas Stadium at Texas Stadium on December 31, 2006 in Irving, Texas. (Photo by Ronald Martinez/Getty Images)
Stanley Wilson II, a former Detroit Lions cornerback, was shot while reportedly attempting to break into a home in Portland, Oregon, on Thursday, per KGW.
Wilson II was naked at the time of the shooting and taken into custody with non-life threatening injuries. He's been accused of first- and second-degree attempted burglary, and first- and second-degree trespassing, with more charges expected to come.
There is no stated reasoning for Wilson II being naked.
Wilson II's father, a former NFL player in his own right, was banned from the NFL for life after a third drug offense. He was later accused of stealing $130,000 worth of property and was sentenced to 22 years in prison in 1999.