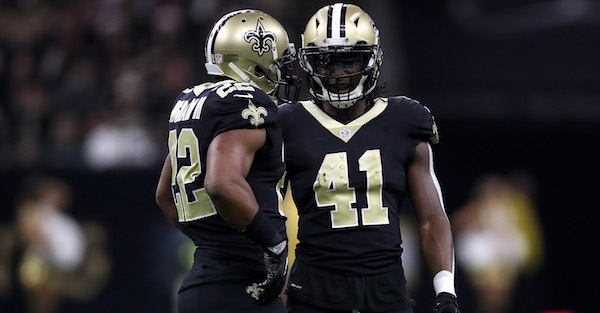 Chris Graythen/Getty Images
NEW ORLEANS, LA - DECEMBER 24: Alvin Kamara #41 of the New Orleans Saints and Mark Ingram #22 of the New Orleans Saints talk during the game against the Atlanta Falcons at Mercedes-Benz Superdome on December 24, 2017 in New Orleans, Louisiana. (Photo by Chris Graythen/Getty Images)
NFL Rookie of the Year winner Alvin Kamara added to his past criticism of how he was misused during his two seasons at the University of Tennessee while appearing on Bleacher Report's "The Simms and Lefkoe Podcast" Thursday,.
Simms chronicled Kamara's journey to a stellar first season with the New Orleans Saints, which included the Pro Bowler serving as the Vols' No. 2 back during the majority of his time in Knoxville.
Simms: This is where I?m fascinated. Mr. Georgia, go to Alabama, leave Alabama, go to junior college, then go to Tennessee, I don?t know what they were smoking down there, they don?t give you enough carries?

Kamara: They were on some other s?.

Simms: Yeah, some other s?.
Last month, Kamara reflected on his time with the Vols and his lack of playing time as ?F?ed up? in a feature story by Sports Illustrated.
Clearly, the Saints figured out a way to utilize Kamara?s abilities much better than Butch Jones and his staff at Tennessee ever could.
Kamara was named NFL Rookie of the Year on Friday, according to Sports Illustrated's Bruce Feldman. He was also voted by fans as the Pepsi Rookie of the Year hours earlier.
The Pro Bowler recorded 1,901 total yards, including 728 rushing (6.1 per attempt), 826 receiving (81 catches) and 347 on kick returns (11 attempts), as well as 14 total touchdowns. during the regular season.
Kamara also helped lead the Saints — who finished third in the division during the previous season — to a first-place finish in the NFC South in 2017.
It's safe to say that the running back has every right to be critical of how he was used in hindsight.