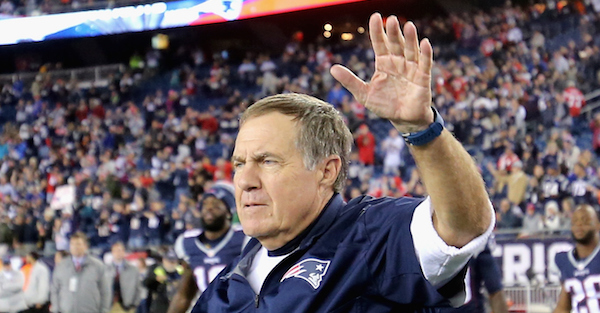 Jim Rogash/Getty Images
FOXBORO, MA - OCTOBER 29: Head coach Bill Belichick of the New England Patriots reacts after a game against the Miami Dolphins at Gillette Stadium on October 29, 2015 in Foxboro, Massachusetts. (Photo by Jim Rogash/Getty Images)
Boston Globe columnist Dan Shaughnessy has been known for hot takes in the past, but his take on Atlanta as a sports town was especially outlandish.
Related: Did the Packers get screwed by a missed call against the Falcons
The New England Patriots are playing for their seventh Super Bowl in the Bill Belichick and Tom Brady Era, and the Atlanta Falcons are searching for their first Super Bowl victory ever. Shaughnessy said it's hard for Patriots fans to be excited about playing the Falcons because they aren't a marquee franchise.
"When it comes to Atlanta and its sports fans, we feel nothing," Shaughnessy wrote. "Maybe a little pity.
"But Atlanta? Seriously? This will be like the Larry Bird Celtics winning two of their championships by beating the Houston Rockets instead of the Lakers. It?ll be like the Bruins beating the expansion St. Louis Blues to win the Stanley Cup. It?ll be like the Red Sox beating the Colorado Rockies to win the World Series."
Shaughnessy also said Atlanta doesn't have enthusiasm for professional sports, and college sports rule the area.
"But it is also a town with absolutely zero enthusiasm for professional sports," he said. "And the non-fans know it. They?ve been hearing it for a long time. The Falcons, Braves, and Hawks don?t win championships so they don?t get much love. Atlanta is a place where people play sports rather than watch them. Atlanta grows professional athletes. We produce Ordways and Massarottis.
"The only two spectator sports that matter in Atlanta are college football . . . and spring college football."
Bleacher Report's Barrett Sallee responded to Shaughnessy's column with two screenshots of the attendance at the AFC and NFC Championship Games.
Shaughnessy went on to cite the limited sports history between the two cities, and how the Boston teams have typically dominated Atlanta teams in the past. Larry Bird and the Celtics owned Dominique Wilkins' Hawks, and Brady is 4-0 against the Falcons in his career. Atlanta's professional sports teams have won one championship in 168 seasons, whereas Boston teams have won more in the last 15 years. (TheAtlanta Braves beat the Cleveland Indians 4-2 in the 1995 World Series).
"Here in Boston, we?ve had an embarrassment of riches, witnessing nine championships since the turn of the century," he said. "Between February of 2005 (Patriots in Jacksonville vs. Eagles) and June of 2011 (Bruins in Vancouver), we watched a local team from each of the four major sports win a championship. That?s a span of just six years and four months. No city will ever do that again. Certainly not poor Atlanta."
The Patriots might win another Super Bowl this year, but this Falcons team is certainly a worthy opponent. Matt Ryan should win a well-deserved MVP award, and this should be a very competitive game?one even Dan Shaughnessy can enjoy.
(h/t Boston Globe)