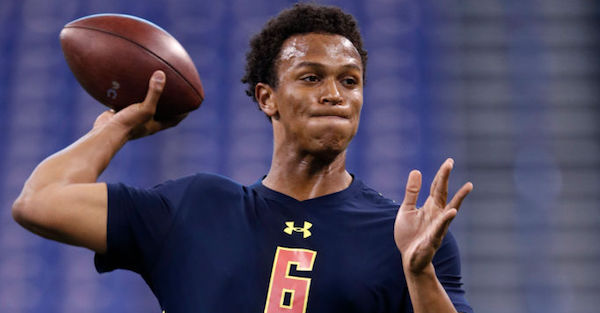 Joe Robbins/Getty Images
INDIANAPOLIS, IN - MARCH 04: Quarterback DeShone Kizer of Notre Dame throws during a passing workout on day four of the NFL Combine at Lucas Oil Stadium on March 4, 2017 in Indianapolis, Indiana. (Photo by Joe Robbins/Getty Images)
Just one week ago, the Cleveland Browns made the move from rookie quarterback DeShone Kizer to former Stanford signal-caller Kevin Hogan. Now, after a dismal effort from the more "veteran" of the two players, the team appears poised to move back to the youngster moving forward.
Mary Kay Cabot of Cleveland.com brings that word that, while it isn't a done deal just yet, Browns head coach Hue Jackson is tipping his hand in favor of Kizer.
"Jackson re-iterated that Kizer is 'huge part of the future here" and that will be a big part of his thinking process. If the Browns are going to have a young quarterback out there struggling with a sub-par supporting cast, it might as well be their possible quarterback of the future."
It was always slightly bizarre to move away from the (far) more talented player in Kizer, especially given Hogan's lack of stability at the position. However, this is doubly interesting given that Kizer "liked" a tweet after his benching that was highly critical of the organization and that did not speak overly well to his maturity.
If this move happens, it will be with an eye toward the future with a very talented prospect but, at the moment, there are no great options at quarterback in Cleveland.