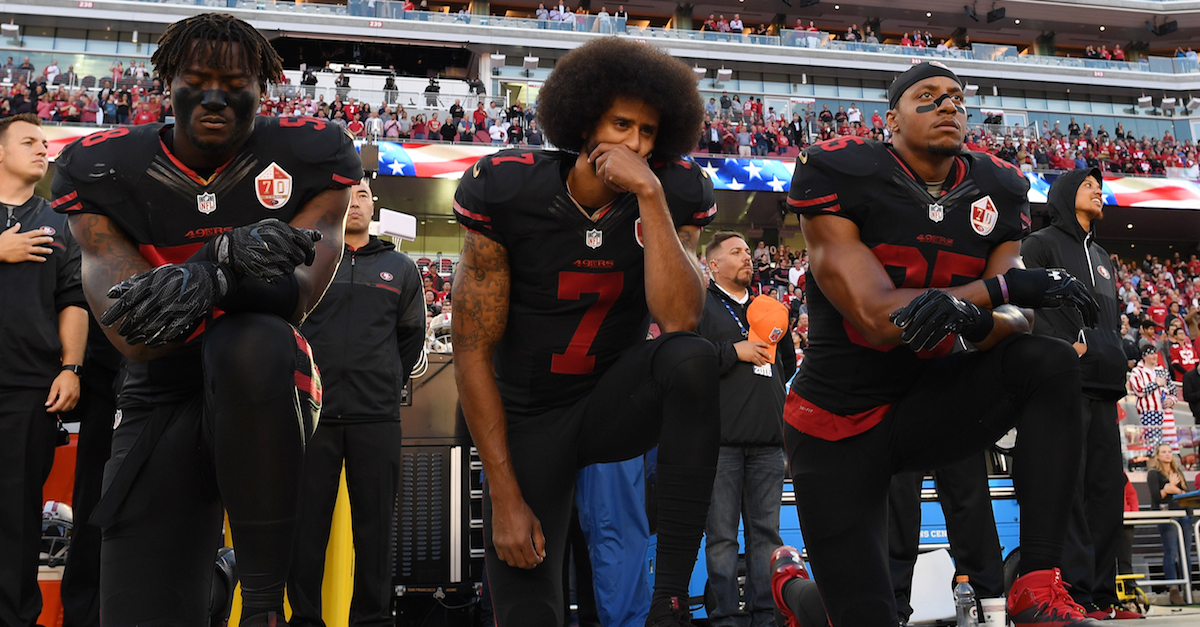 Thearon W. Henderson/Getty Images
SANTA CLARA, CA - OCTOBER 06: (L-R) Eli Harold #58, Colin Kaepernick #7, and Eric Reid #35 of the San Francisco 49ers kneel in protest during the national anthem prior to their NFL game against the Arizona Cardinals at Levi's Stadium on October 6, 2016 in Santa Clara, California. (Photo by Thearon W. Henderson/Getty Images)
The Carolina Panthers are officially up for sale and Colin Kaepernick and hip-hop legend Diddy are reportedly in the mix to buy the team. Yahoo Sports is reporting that Sean "Diddy" Combs is trying to set up meetings with potential investors in hopes of forming an ownership group to eventually buy the team.
Apparently those plans also involve Kaepernick who discussed a role in forming the ownership group. It all started with Diddy tweeting about how he would buy the team and Kaep chimed in shortly after.
Here's part of the Yahoo Sports report about what Kaepernick plans to do with Combs and how they are going to go about making the ownership group:
Kaepernick has already begun reaching out to a handful of business leaders, venture capitalists and sports icons to discuss an ownership group. The source close to Kaepernick said the quarterback had a ?shared vision? with Combs about creating an ownership group that more closely represents the racial makeup of the league?s players, which is about 70 percent African-American. To date, the NFL has never had an African-American majority owner.
Here's the statement, via the Panthers once Richardson decided to sell the team:
Just days ago an investigation into alleged workplace misconduct was opened, and details have since emerged including his alleged request for African American players not to wear dreadlocks, sexually suggestive behavior and directing an alleged racial slur at an African American team scout, per SI.
He reportedly requested team employees simply refer to him as "Mister."
There are plenty of disgusting allegations in the post, including a request to shave a female's legs, have someone apply sunscreen to his face and giving massages which "lingered" too long.
The Panthers made a formal announcement of what they deem as ?an internal investigation into allegations of workplace misconduct against the team?s owner and founder, Jerry Richardson.? Beyond that, the franchise indicated that the inquiry will be operated by law firm Quinn Emanuel Urquhart and Sullivan, LLP, with oversight from Panthers owner and former White House Chief of Staff Erskine Bowles.
In addition, team spokesman Steven Drummond released the following statement:
?The Carolina Panthers and Mr. Richardson take these allegations very seriously and are fully committed to a full investigation and taking appropriate steps to address and remediate any misconduct. The entire organization is fully committed to ensuring a safe, comfortable and diverse work environment where all individuals, regardless of sex, race, color, religion, gender, or sexual identity or orientation, are treated fairly and equally. We have work to do to achieve this goal, but we are going to meet it.?
That is the extent of what the Panthers announced, with the exception of a notice that the team will not be commenting about ?the specifics of the allegations? due to legal ramifications. Stay tuned as this story develops.
[h/t Bleacher Report]