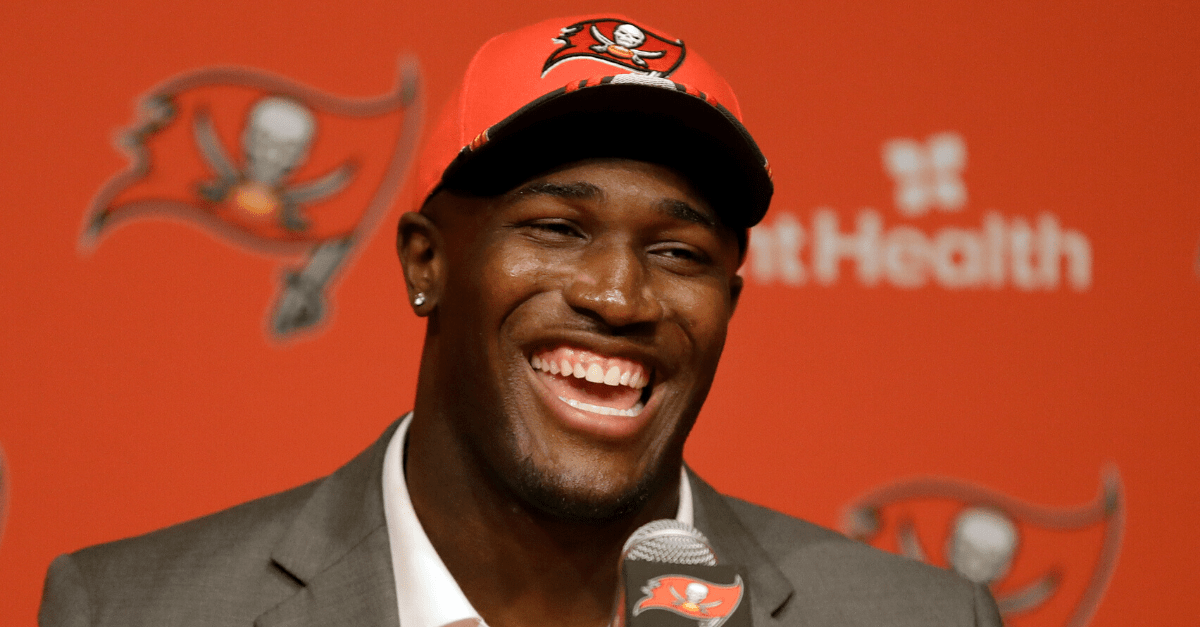 AP Photo/Chris O'Meara
Every once in a while, the NFL gets something right. That is true of this week's My Cause My Cleats campaign in which hundreds of NFL players showcase their causes on custom-made cleats. It's a chance to display creativity while representing a charitable organization and bringing awareness to an issue that matters to each player.
The initiative began in 2016, and since then it has brought us some pretty awesome cleats and causes. One NFL punter donned camouflage cleats in 2018 to support the Catch-A-Dream Foundation, which helps take children with life-threatening illnesses on hunting and fishing trips.
Peruse the #MyCauseMyCleats hashtag on social media and you'll find some more inspiring cleats as players unbox them this week in locker rooms, hospital visits, classrooms, and stadium fields.
One of the best pair of cleats this season will be worn by former LSU Tigers star and current Tampa Bay Buccaneers linebacker Devin White.
Devin White Custom Horse Cleats
White will not only be honoring his late horse, Daisy Mae, he'll also be supporting and bringing awareness to animal hydration awareness. The 5-year-old horse died suddenly this summer from dehydration and heat exhaustion, and White hopes to educate people on the issue.
?Never thought I would be posting something like this so soon, been in tears for over 10 plus hours,?? White posted on Facebook after Daisy Mae's death. ?Everybody knows the love I have for ?Daisy Mae,? and the passion that I take care of her with. Many of you may know already that my baby girl left this beautiful world last night but she fought hard?she was very dehydrated and overheated!!.??
White began riding horses when he was 5. The football player owns several horses, but Daisy Mae was his favorite. He even once rode her into LSU's Tiger Stadium. The former LSU linebacker was drafted in the first round (fifth overall) of the 2019 NFL Draft by Tampa Bay.
White's #MyCauseMyCleats story is just one of many great ones that you can find on NFL.com. Players aren't limited to certain brands and have worked with Nike, Under Armour, adidas and independent designers to create their cleats.
?Our players are passionate supporters of many charitable causes and serve as changemakers in their communities," NFL Commissioner Roger Goodell said in a release. "We are excited to build upon last year's success and work with our players to expand this unique platform that enables them to raise awareness for causes they support.?
Over the last three seasons, players have donned some masterpieces on their feet while bringing attention to important causes.
Carolina Panthers tight end Greg Olsen told the story of how his son survived a heart defect in infancy and raised awareness for congenital heart defects. Arizona Cardinals running back David Johnson was bullied as a child and worked with STOMP Out Bullying for his cause.
In 2016, New England Patriots defensive end Chris Long wore cleats to bring awareness to clean water needs in East Africa. Buccaneers wide receiver Mike Evans wore gold cleats and worked with the Ross Initiative in Sports for Equality (RISE) nonprofit to sideline racism.
This year, players are supporting organizations like children's hospitals, the American Cancer Society, the Special Olympics, Boys & Girls Clubs, the Make-A-Wish Foundation and the United Way.
Other Notable 2019 My Cause My Cleats
Here's a list of a few more cleats from this year's installment that caught my eye: