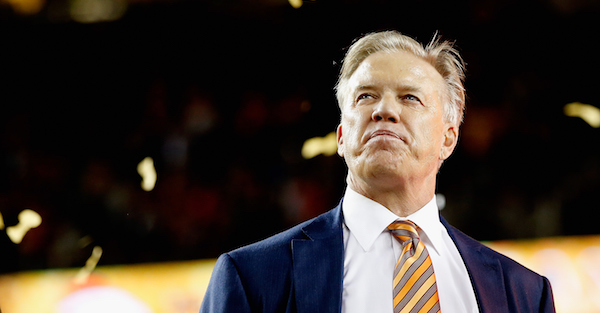 Ezra Shaw/Getty Images
SANTA CLARA, CA - FEBRUARY 07: General Manager John Elway of the Denver Broncos looks on after their win over the Carolina Panthers during Super Bowl 50 at Levi's Stadium on February 7, 2016 in Santa Clara, California. (Photo by Ezra Shaw/Getty Images)
The Miami Dolphins took a 33-9 lead on the Denver Broncos late in the second half on Sunday, and Dolphins coach Adam Gase decided to kick an onside kick.
Gase was clearly trying to run up the score on the Broncos, and there appears to be bad blood between Gase and Broncos GM John Elway. Gase was with the Broncos from 2011-2014 as the quarterbacks coach and then the offensive coordinator, and he interviewed to be the head coach of the San Francisco 49ers in 2015.
Gase was believed to be the frontrunner for the job, but they eventually hired Jim Tomsula. Gase believes Elway bad-mouthed him to 49ers GM Trent Baalke, but he wasn't upset about it initially because he believed Elway was going to hire him as the next coach of the Broncos.
Instead, Elway hired his friend, Gary Kubiak, and Gase was obviously less than pleased.
RELATED: John Elway says he's "embarrassed" by Denver Broncos lackluster season
According to Armando Salguero of the Miami Herald, Gase claims it wasn't about getting back at Elway. He said he wants his team to finish games stronger, and he said they aren't going to slow down regardless of the score.
But knowing Gase's history with Elway, it's hard to believe their past didn't have something to do with the Dolphins trying to run up the score.
The Dolphins went on to win the game 35-9, which probably isn't as bad as Gase would've liked.
(h/t Niners Nation)