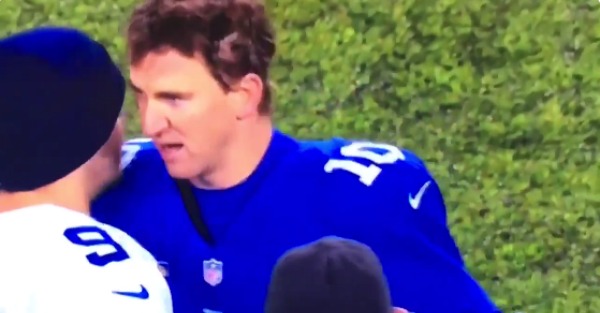 @GarethLindo/Twitter
The New York Giants 10-7 victory over the Dallas Cowboys Sunday not only handed America's team its second loss of the season, it also nudged the Dak Prescott-Tony Romo debate back into the spotlight.
Both sides of the fence are well represented. Many saw Prescottt's worst performance of the season as reason enough to replace him with Romo, yet others continue to believe in the rookie.
And what happened after the game–the traditional mid-field meeting between starting quarterbacks to exchange a handshake, pleasantries, what have you—will probably deepen the divide.
Eli Manning chose to shake hands with Romo before Prescott, which seems innocent enough. But whether by design or default, controversy makes for a better story and the controversy here extends beyond the obvious question of why Manning would interface with Romo, who didn't play a single down, before Prescott.
RELATED: Looks like the Cowboys will be disappointed if they think they'll get a haul for Tony Romo
Video replay of the exchange appears to show Manning mouthing the words, "I've got your back," to Romo right before they hug. The two have history, though, so this could just be making something out of nothing.
Both are around the same age and have been with the their respective ball clubs since the start of their careers many moons ago. So, save for injury, they've faced each other close to two dozen times over the years.
That said, regardless of Manning's motivation, this little incident will serve to fan the embers of what is, soon enough, likely to become a full-scale quarterback controversy.
Just watch.