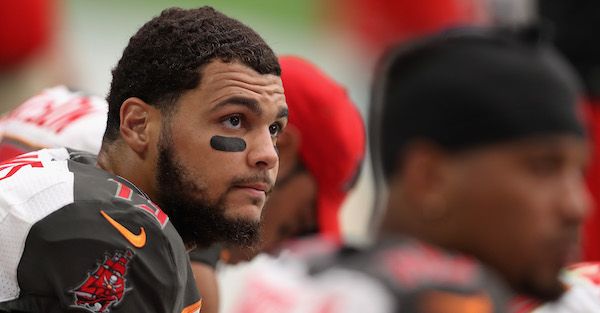 Christian Petersen/Getty Images
GLENDALE, AZ - SEPTEMBER 18: Wide receiver Mike Evans #13 of the Tampa Bay Buccaneers watches from the sidelines during the NFL game against the Arizona Cardinals at the University of Phoenix Stadium on September 18, 2016 in Glendale, Arizona. (Photo by Christian Petersen/Getty Images)
ESPN anchor Sage Steele took to Twitter Sunday night after Tampa Bay Buccaneers wideout Mike Evans announced he would sit for the national anthem over the rest of the season.
According to a comment on teammate Louis Murphy?s account from Evans? verified Instagram account, he did not vote:
Here?s what he said the day prior on why he was protesting, per JoeBucsFan.com:
?I don?t want to, you know, disrespect the veterans or anything,? Evans said. ?The men and women who serve this country, I?m forever indebted to them. But the things that?s been going on in America lately, I?m not going to stand for that.?
Evans reportedly went on to make it clear his protest was of Trump?s election:
?If this happens, then America?s not right right now,? Evans said. ?I?m not a political person that much, but I got common sense. And I know when something?s not right.?

When asked if he?d continue to kneel, he said, ?As long as he?s the president elect.?
Evans has every right to be upset about the result, but not doing anything to at least make his voice heard in the first place is unacceptable. He has truly no room to complain if he didn?t take advantage of voting.
In his third season, Evans has 745 yards receiving and eight touchdowns.
There has been plenty of controversy surrounding the national anthem protests, started by Kaepernick to take a stand against the oppression of ?black people and people of color.? Kaepernick originally sat and has moved to kneeling.