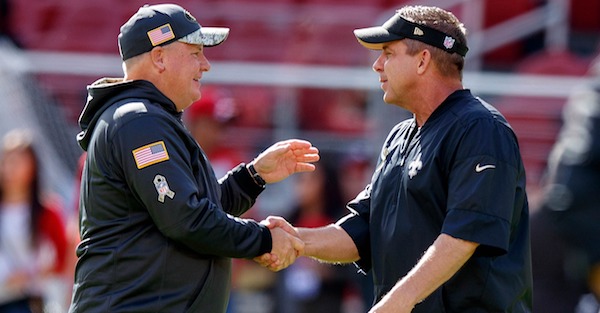 Jason O. Watson/Getty Images
SANTA CLARA, CA - NOVEMBER 06: Head coach Chip Kelly of the San Francisco 49ers shakes hands with head coach Sean Payton of the New Orleans Saints before the game at Levi's Stadium on November 6, 2016 in Santa Clara, California. (Photo by Jason O. Watson/Getty Images)
Looks like the Indianapolis Colts may have been involved in a little cloak-and-dagger, backroom negotiations for a new head coach.
CBS Sports reports that the Colts and the New Orleans Saints were involved in discussions about a possible trade for Saints head coach Sean Payton, but the talks broke down over compensation.
The Saints may have been looking for a draft pick in the first two rounds, but the Colts weren't willing to go that high, CBS reported.
Trying to get a coach isn't at all a problem. Only thing is, the Colts had a head coach — Chuck Pagano — under contract during the reported trade talks.
RELATED: One NFL team may be trying to lure Peyton Manning back in to the NFL
The Colts have been in a bit of turmoil. The team fired general manager Ryan Grigson last week, and has  had to contend with reports  — now denied by Indianapolis  — that the team tried to lure Peyton Manning and Jon Gruden to become the new GM and coach combo.
The negotiations between the Colts and Saints apparently occurred before Colts owner Jim Irsay proclaimed Pagano would remain head coach for 2017.
But the news of the backroom dealings can't make Pagano feel secure,